Dennis Jale & Original Elvis Musicians ERSATZTERMIN für 22.1./30.4./24.9.2021 - Schedule, Program & Tickets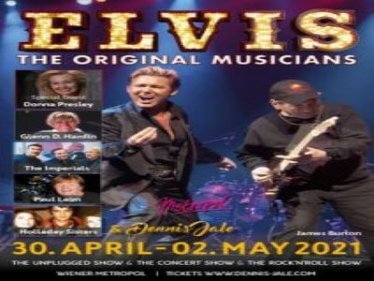 Dennis Jale & Original Elvis Musicians ERSATZTERMIN für 22.1./30.4./24.9.2021
Liebe Freunde, aufgrund der weiterhin unklaren internationalen Reisebedingungen habe wir uns entschlossen, die gesamte Tour mit der Original Band von Elvis & Donna Presley nunmehr wieder auf die traditionelle Jänner-Termine rund um den Geburtstag des King zu verlegen! Wir freuen uns, daß die Shows im Wiener Metropol nunmehr am 14./15.1.2022 2021 stattfinden werden!

Euer Dennis

Dennis Jale gemeinsam mit James Burton, Glen D. Hardin, Terry Blackwood & The Imperials, The Holladay Sisters und Paul Leim

Special Guest: Donna Presley

"Suspicous Minds", "In the Ghetto" and "The hunka hunka Burning Love": jeder kennt Elvis' legendäre Songs, aufgenommen 1969 in den American Sound Studios und in den 70ern in den berühmten Stax Studios in Memphis, Tennessee.

2022 gibt es wieder die Gelegenheit, die unvergleichlichen Stimmen, die den King im Studio zu Höchstleistungen anspornten, live zu erleben. Acht Jahre lang begleiteten die HOLLADAY SISTERS Elvis bei seinen größten Aufnahmen der 60er und 70er Jahre.

Während die zwei Schwestern MARY & GINGER HOLLADAY, die in ihrer rund 50jährigen Karriere auch mit Stars wie Cher, Johnny Cash und Dolly Parton arbeiteten, mit Elvis im Studio aufnahmen, waren der Pianist & Arrangeur GLEN D. HARDIN, Gitarrist JAMES BURTON und der mit 4 Grammys ausgezeichnete Gospelchor TERRY BLACKWOOD & THE IMPERIALS das perfekte Stage-Backup für Elvis.

Musik-Kritiker von damals meinten: "Elvis Presley spielt nur mit einer ganz besonderen Art von Musikern zusammen: den Besten."

Neben diesen Rock-Ikonen wird auch die Tour 2021 von einer "echten" Presley begleitet: DONNA KAY PRESLEY. Die Cousine des King wuchs in Graceland und auf Elvis' Circle G Ranch auf. Sie lebte dort bis zu ihrer Hochzeit und hat jede Menge Stories aus dem privaten Umfeld von Elvis Presley auf Lager; Stories, wie sie selbst die größten Fans noch nicht gehört haben.



Änderungen vorbehalten.