Burgtheater Vienna – Schedule, Program & Tickets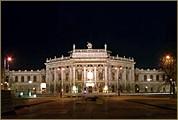 After the Comédie Francaise, the Burgtheater in Vienna is Europe's second-oldest theatre. Today, the Burgtheater, originally known as the K. K. Hoftheater nächst der Burg, complete with its three affiliated venues – the Akademietheater, Kasino and Vestibül – and a permanent ensemble of more than 80 actors and actresses, is one of Europe's largest theatres and plays a seminal role in the German-speaking theatrical world. Every season, the Burgtheater and its affiliated venues welcome approximately 400,000 theatre-goers to some 800 performances.
Mein Kampf
Farce von George Tabori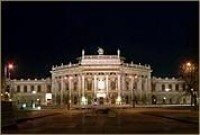 George Tabori – Wiener Legende, Theatergenie, Kosmopolit – schuf mit der Farce MEIN KAMPF eines der wichtigsten Theaterstücke der 1980er Jahre. Tabori war einer der Ersten, der Adolf Hitler – knapp 50 Jahre nach Charlie Chaplins DER GROßE DIKTATOR – als Komödienfigur wiederentdeckte, und er trieb es bunt mit ihm...
Eine lichtdurchflutete, modernistische Villa auf der Sonnenseite von Wien, voller Menschen, mit denen es das Leben nicht schlecht gemeint hat. Privatgelehrte und Industrielle, Schauspielerinnen und Filmemacher, Therapeuten und Anwältinnen, Geschäftsführer und Investorinnen – sie kreisen in ihrem kleinen Orbit um sich selbst und umeinander, häufen finanzielle und emotionale Schulden an und spinnen Pläne zur Rettung der Menschheit oder ihres eigenen kleinen Unglücks...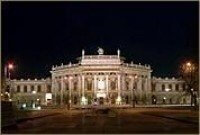 Elf Jahre ist Richard alt, als man ihn auf den Thron setzt, Isabel von Valois, seine Frau, ist mit sechs Jahren Königin geworden. Ein seltsam flirrendes Paar auf dem Thron, zwischen hypertrophen Höhenflügen und düsteren Ahnungen schwankend. Shakespeares "schlechtester König" hat das, was man Politik nennt, nie gelernt. Er hat wohl den Mord an einem seiner Onkel angeordnet, was ihm dieses Verbrechen aber für Vorteile gebracht haben könnte, bleibt unersichtlich.
...