Akademietheater Vienna – Schedule, Program & Tickets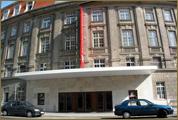 Designed by the architects Fellner & Hellmer and Ludwig Baumann and built between 1911 and 1913, the Akademietheater has been the Burgtheater's second venue since 1922. After many years of requests from ensemble members of the Burgtheater who wanted a second stage of more intimate dimensions, Max Paulsen succeeded in affiliating the "Theatre of the Academy of Music and the Performing Arts", for brevity 's sake called Akademietheater, to the Burgtheater as a smaller, second venue. It was inaugurated on September 8, 1922, with a performance of Goethe's Iphigenia in Tauris. After the Second World War, which the building survived intact, the theatre was re-opened on May 19, 1945, under the direction of Raoul Aslan with Ibsen's Hedda Gabler. The Akademietheater was refurbished and technically upgraded in 1974 and in 1999.
Diese Geschichte von Ihnen
John Hopkins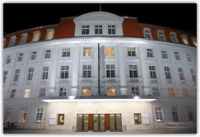 Ein Polizist bohrt sich während eines Verhörs, besessen von dem Wunsch, einen Verbrecher zu überführen, in den Verdächtigen hinein. Ein Gemisch aus begründetem Verdacht, blanker Empörung und unkontrollierter Projektion bringt die Gewalt zur Explosion.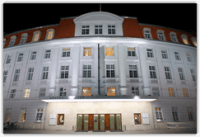 Der österreichische Dramatiker Thomas Köck – zweifacher Träger des Mülheimer Dramatikerpreises – verwendet die Sophokles-Übersetzung nach Hölderlin als Fundament seiner "Rekomposition", geht aber weit über eine sprachliche Aktualisierung hinaus. Den Konflikt zwischen Kreon und Antigone entwickelt er zu einem heutigen Diskurs über Humanismus und politische Verantwortung. Dem Chor kommt dabei – als beobachtender Kommentator und Spiegel einer gleichgültigen Gegenwartsgesellschaft – eine zentrale Rolle zu.
...
Claus Peymann kauft sich eine Hose und geht mit mir Essen
Akademietheater, Lisztstraße 1, 1030 Vienna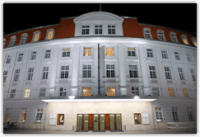 Thomas Bernhard widmete die drei Dramolette Claus Peymann verlässt Bochum und geht als Burgtheaterdirektor nach Wien, Claus Peymann kauft sich eine Hose und geht mit mir essen und Claus Peymann und Hermann Beil auf der Sulzwiese realen Figuren und schuf gleichzeitig durch die komödiantische wie groteske Zuspitzung geradezu typische Prachtexemplare des allgemeinen und besonderen Theaterwahnsinns.
...
Sechs Tanzstunden in sechs Wochen
Richard Alfieri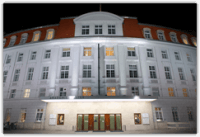 Wie sich die beiden in Tanzschritten von Swing bis Cha Cha Cha, von Tango bis Boogie Woogie aufeinander zu bewegen und beginnen, einander zu vertrauen, sich an glückliche Zeiten ebenso wie an die schmerzvollen, davon erzählt diese tragikomische Geschichte, die eigentlich eine Romanze ist, in der sich eines der charmantesten Tanzpaare seit Ginger Rogers und Fred Astaire formiert.