Liebeslieder - Schedule, Program & Tickets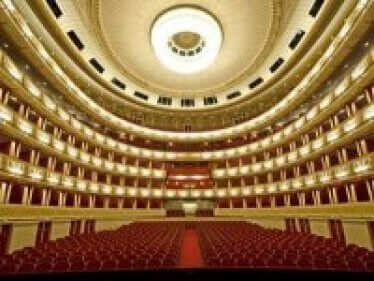 Liebeslieder
31.01.2022 , Monday
Staatsoper, Opernring 2, 1010 Vienna
OTHER DANCES
composer
Frédéric Chopin
choreography
Jerome Robbins
Costumes
Santo Loquasto
light
Ronald Bates
Rehearsal
Isabelle Guérin
piano
Igor Zapravdin

CONCERTO
composer
Henryk Mikołaj Górecki
choreography
Lucinda Childs
Costumes
Anne Masset
light
Dominique Drillot
Rehearsal
Ty Boomershine

LOVE SONGS WALTZ
composer
Johannes Brahms
choreography
George Balanchine
stage
Rolf Langenfass
Costumes
Karinska
Rehearsal
Maria Calegari
Bart Cook
soprano
Johanna Wallroth
Old
Stephanie Maitland
tenor
Hiroshi Amako
bass
Ilya Kazakov
piano
Jendrik Springer
Sarah Tysman

"I come no matter what you want me for. I can dance, I can choreograph. "With these words, Jerome Robbins addressed the director of the New York City Ballet in 1948. And this one - George Balanchine, who knew Robbins' work on Broadway and his talent very well - answered simply: "Come on!" That sealed an American success story: From now on Robbins was not only as ballet master at the side of Mr. B. Robbins , but also played a decisive role as a choreographer in the development of the New York City Ballet into one of the most important dance companies.

In 1976 he created "Other Dances" for Natalia Makarova and Mikhail Baryshnikov - a Chopin ballet that beautifully shows what the Russian star dancer once said about the choreographer: "Robbins is the most romantic of all moderns." in this pas de deux the romanticism of the music merged with the grace of the classical ballet technique.

What happens to our perception of a movement when it is repeated continuously but in different situations? Lucinda Childs deals with this question and creates dance architecture of pure form. With »Concerto«, premiered in 1993 by the Lucinda Childs Dance Company in Lisbon, a work by the important American can now be experienced for the first time with the Vienna State Ballet. In the elementary combination of geometric patterns, repetitive sequences of movements and rhythms, "Concerto" develops a hypnotic effect in a congenial partnership with Henryk M. Górecki's Concerto for harpsichord and strings - a score like a "stroke", according to the Polish composer.

In contrast, Balanchine's »Liebeslieder Waltzes« take you into the world of Viennese balls. The work, which was premiered in 1960 with the New York City Ballet, was part of the repertoire of the Vienna State Ballet between 1977 and 1991, to which it is now returning in a new production. Four dance couples, singers and pianists meet on the stage as if in a boisterous Schubertiade, which is transformed into a ballroom with Johannes Brahms '" Liebeslieder-Waltz "op. 52 and" Neue Liebesliedern "op. 65. First in elegant, playful evening gowns, then in ballet dresses and pointe shoes, Balanchine creates intimate portraits of passion: "In the first act, it is the real people who dance. In the second act, it's their souls, "says the choreographer.

Jerome Robbins "Other Dances" takes place with the permission of the © The Robbins Rights Trust, George Balanchine's "Liebeslieder Waltz" takes place with the permission of the © The George Balanchine Trust.

Subject to changes.