Die Fledermaus - Schedule, Program & Tickets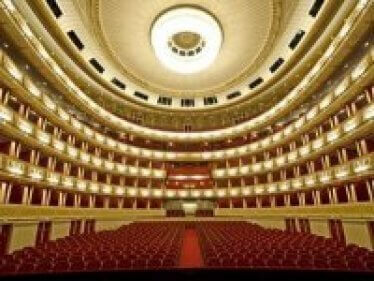 Die Fledermaus
musical direction
Bertrand de Billy
Staging
Otto Schenk
stage
Günther Schneider-Siemssen
Costumes
Milena Canonero
Choreography in the 2nd act "Under thunder and lightning"
Gerlinde Dill
Gabriel von Eisenstein
Andreas Schager
Rosalinde
Rachel Willis-Sorensen
Frank
Wolfgang Bankl
Prince Orlofsky
Christina Bock
Alfred, a tenor
Jörg Schneider
Dr. Falcon
Clemens Unterreiner
Adele
Vera-Lotte Boecker
frog
Peter Simonischek

Rarely has a work hit Vienna with such immediacy as Johann Strauss '" Die Fledermaus ". From the first performance in 1874 onwards, the piece was performed with the highest number of performances, in 1894 it was honored with court operas, and since then has remained in the repertoire almost continuously and since 1900 almost always on New Year's Eve. The most famous of all operettas approaches variations of erotic and social disguise with a happy and light hand and makes the bourgeois facades dance, including political and social comments.

Director Otto Schenk, who rehearsed the production on December 31, 2011, sees two engines in the bat: the sentimentality, the indulgence in an almost hypochondriacal exaggerated mood and the embarrassment that is caused by the downright satanic addiction of all those involved to entertainment.

The plot

ACT 1
The plot revolves around Prince Orlofsky's ball. In the first act, all the people involved are magnetically drawn to him, with the exception of Alfred, the tenor who is in love with Rosalinde, who strolls along the edge of the action like a comet: The housemaid Adele is, as she believes, invited there by her sister Ida and needs one inventing a touching story of a sick aunt in order to get an exit after some back and forth, and her employer, the reindeer Eisenstein, is given a helping hand by his friend Dr. Falke is persuaded to have fun with him at Orlofsky's instead of serving the prison sentence that was assigned to him for defamation of office - of course, Dr. Falke has his own plan, because Eisenstein once embarrassed him in front of the whole city when he let him go home drunk after a masked ball and disguised as a bat. Falke now sees the opportunity for revenge. That's why he finally invites Eisenstein's wife Rosalinde to the ball. Before that, she got into considerable confusion when, after Eisenstein's alleged departure from arrest, her former admirer, Alfred, appeared, oppressed her heart, but was arrested in Eisenstein's place by the prison director, Frank. After this official act, Frank goes to the Orlofsky ball, satisfied.

ACT 2
At Prince Orlofsky's ball, all of Dr. Falke arranged entanglements in the best possible way. To his amazement, Eisenstein meets his chambermaid Adele, who cheekily denies her identity, becomes friends with the prison director and finally falls in love with his wife, who is disguised and masked as a Hungarian countess.

ACT 3
The 3rd act unties the knot again. He plays in prison, which receives a dubious note from the never sober bailiff Frosch. Little by little everyone found their way there: after the hungover director Frank, first Adele, who was looking for a patron to develop her dramatic talent, along with her sister Ida, then Eisenstein, who was astonished to learn that he had been locked up all night ; When Rosalinde appears and demands an interview with a notary together with the arrested Alfred, Eisenstein takes the place of the notary Dr. Blind and so behind the events of the previous evening. Fortunately, he finally lets himself be convinced that this too is part of Dr. Falke's plans for revenge were, and so everything turns out well, all the more so when Adele actually finds her patron in Prince Orlofsky.

Subject to changes.