Ballett: Onegin - Schedule, Program & Tickets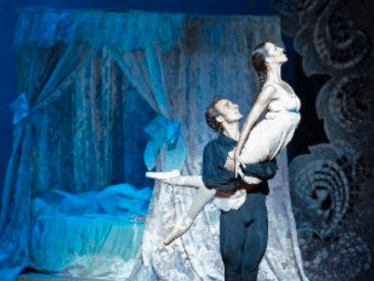 Ballett: Onegin
CONDUCTOR Ermanno Florio
CHOREOGRAPHY AND PENETRATION John Cranko
MUSIC Peter I. Tchaikovsky furnished and instrumented by Kurt-Heinz Stolze
STAGE AND COSTUMES Elisabeth Dalton
LIGHT Steen Bjarke
CONTENT
I. ACT

Scene 1 In the garden of Madame Larinas

Tatjana and Olga dance with their girlfriends. An old game is played: who looks in the mirror sees the beloved. Cheerful Olga is superstitious. She sees her fiancé, the poet Lenski. When her sister, the shy Tatiana, looks in the mirror, she sees Onegin, who - on a visit from St. Petersburg - by his friend Lenski in the house of the widow Larina is brought. Tatjana instantly falls in love with him. But Onegin, a bored city dweller and future heir to a rich manor, makes society feel his superiority. Tatjana too can not break his arrogance.

Scene 2 Tatiana's bedroom

Tatjana writes a letter to Onegin, in which she expresses her enthusiastic love for the almost unknown man. Falling asleep over what she has written, she looks into her mirror in a dream: Onegin appears and returns her love.

II. ACT

Scene 1 In the house of Madame Larinas

Tatiana's birthday is celebrated, and Lenski and Onegin also attended the party. Impatiently, Tatjana waits for a sign that Onegin answers to her letter. Irritated by her naïve openness, Onegin tears the letter before her eyes and flirts so scandalously with her sister Olga that the jealous, unsuspecting Lenski calls for a duel. Even Prince Gremin, a respected friend of the house, can not prevent the drama.

Scene 2 An abandoned park

Tatjana and Olga summon Lenski to relinquish the duel. Onegin too is ready for reconciliation, seems to suspect his wrong. But the romantic poet is too deeply hit. In Tatjana's eyes Onegin becomes his murderer.

III. ACT

1st scene Ballroom of Prince Gremin

Ten years have passed. Tatiana became the wife of Prince Gremin. On a ball given by the prince, a life-disappointed Onegin appears. When he sees Tatjana there so unexpectedly, he realizes that he has spurned in her the only true love of his life. He begins to search for her for her former feelings for him. But the roles interchange: The Princess Gremin turns away from him seemingly superior.

Scene 2 Tatiana Boudoir

Onegin has registered by letter to Tatjana. She wants to avoid the encounter, but her request to the carefree spouse not to leave her alone this evening remains in vain. Onegin comes and reveals her love. Fighting with her feelings, Tatiana realizes that Onegin's insight is too late: she tears his letter before his eyes. Desperate, Onegin crashes away, Tatiana remains desperate.

Subject to change.