The Spirit of Freddie Mercury - Schedule, Program & Tickets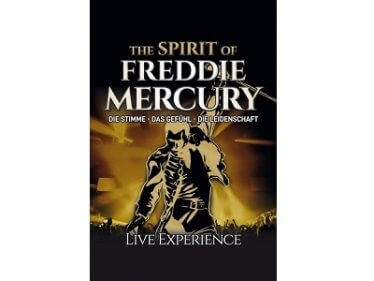 The Spirit of Freddie Mercury
The voice - the feeling - the passion

The Spirit of Freddie Mercury featuring Queen Real Tribute will go on a major tour through Germany and Austria from January 2022. The well-rehearsed musicians slip into the roles of Mercury and his bandmates May, Taylor and Deacon with authenticity.

On their musical journey through time through the wild 70s and 80s they bring the myth "Queen" back to life. After a very short time you have the feeling of seeing the artist, singer and person Freddie Mercury together with his band as a live experience on stage.


As a charismatic singer, brilliant songwriter and showman for the band Queen, Freddie Mercury became an absolute superstar in pop history. With its eccentric lifestyle and unique talent, "Die Voice" still inspires people's hearts.

His career began at the age of 17 when he moved to London, where he met guitarist Brian May and drummer Roger Taylor. With them he founded the band Queen. "The Passion" of the group created an unheard genre, which was created through various combinations of theatrical and heavy rock.

The film "Bohemian Rhapsody", which is about the history of Mercury and the founding of Queens, also met with great enthusiasm. "The feeling", which is conveyed even 30 years after Freddie's death, will not be forgotten for a long time. Even today he touches people all over the world with his songs.

Under the motto "The Voice - The Feeling - The Passion", the audience will experience the best hits by Mercury and Queen in an unusual stage show with excellent dancers and top singers.

As Freddie Mercury said at the time, "A concert is not just playing our album live. It's a theatrical event ".


Subject to changes.