That's Life - Das Sinatra-Musical - Schedule, Program & Tickets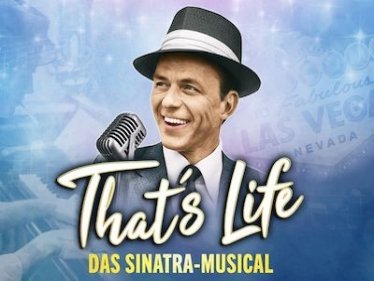 That's Life - Das Sinatra-Musical
"That's Life - The Sinatra Musical" by successful producer Oliver Forster shows impressive images of Sinatra's incomparable career, but also addresses the dark side of his mundane-seeming life. The Las Vegas show features "Frankie Boy's" biggest hits, taking the audience back to the legendary Swing era with its big bands.

Frank Sinatra, one of the greatest entertainers in the world, is still unforgotten until today: his songs like "My Way", "Strangers In The Night" or "New York, New York" brought him world fame. He is considered one of the most influential personalities of pop music of the 20th century.

Frank Sinatra was a man to whom all conceivable superlatives of popular music were applied. Throughout his career, he has managed to maintain an unmistakable style and always remain at the forefront of commercial success, despite opposing trends. So he became one of the most important characters in the American and international music business. With over 1,800 song recordings, 60 film roles, nine Grammys and an Oscar, he broke all the records of the entertainment industry to date.

Subject to change.
That's Life - Das Sinatra-Musical
Stadthalle, Hall F Vogelweidplatz 14, 1150 Vienna