Martin Rütter - Freispruch! - Schedule, Program & Tickets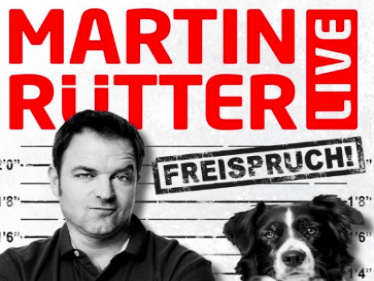 Martin Rütter - Freispruch!
Martin Rütter does away with the myth of the notorious problem four-legged once and for all. He gets down from the bone-heavy dock: the outcasts, the exiles, and the usgebüxten. For what we all know long ago, but dare not think, brings the Hundepro number 1 unequivocally to the point: SCHULD is never the dog. "But who then and why?" Martin Rütter explains us - in his live show "FREISPRUCH!". He guides us in his incomparable way unerringly through the bizarre relationship jungle of humans and dogs. He draws the mirror of the real truth. Because Martin Rütter knows exactly: The animal-human everyday life has its own laws. And every problem case has its own story. Even if the postman is turned into a hunting object, even if Bello mutates at the dinner table to the king of beggars and when the oh-so-friendly Schwanzwedler suddenly turns out to be a raging ruffle, then the defender of all four-legged pleading clearly on "FREISPRUCH!". After all, he will tell us who really screwed up. "FREISPRUCH!" The live show by and with Martin Rütter. Professionally. Analytically. And above all, really funny.

Subject to change.
Martin Rütter - Freispruch!
Stadthalle, Hall D, Roland Rainer Platz 1, 1150 Vienna