Joe Satriani - Schedule, Program & Tickets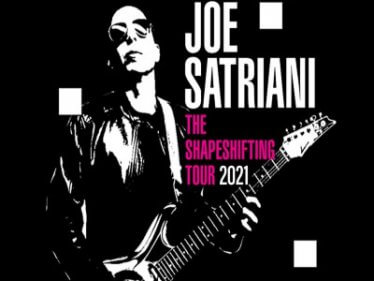 Joe Satriani
Date:
Time:
Price class:
Location:
08.04.2023 , Saturday
20:00
B
Stadthalle, Hall F Vogelweidplatz 14, 1150 Vienna
Joe Satriani, der renommierte Gitarrenspieler macht im Zuge seiner Europa-Tournee am 11. Mai 2022 Halt in der Wiener Stadthalle.

Satriani wird bei seiner Tournee von dem Trommler Kenny Aronoff (John Fogerty), Bassgitarristen Bryan Beller (Aristocrats) und Keyboardspieler Rai Thistlethwayte (Thirsty Merc) begleitet. Das Konzertprogramm bietet außer den Songs aus dem neuen Album "Shapeshifting" auch klassische Songs aus dem Repertoire des Gitarrenspielers wie "Suerfing With The Alien", "Cherry Blossoms", "Always With Me, Always With You" und "Flying In A Blue Dream" an.

In den letzten Jahren trat Joe Satriani in der ganzen Welt auf, und zwar nicht nur als Solospieler, sondern auch als Gründer des berühmten Gitarrentrios G3, an dem sich solche Künstler wie Steve Vai, Eric Johnson, Robert Fripp, John Petrucci oder Uli Jon Roth beteiligt haben. "Ich meine, das ist die Chemie, die unter diesen ausgezeichneten Gitarrenspielern auf der Bühne herrscht," erklärt den Erfolg von G3 Joe Satriani, der während seiner Karriere mehr als 10 Millionen Aufnahmen verkauft hat, mit zwei Platin-Schallplatten und vier Goldenen Schallplatten ausgezeichnet und fünfzehnmal für Grammy Awards nominiert wurde.

Zusammen mit dem Gründer von Van Halen Sammy Hagar, Bassgitarristen Michael Anthony und Trommler Red Hot Chili Peppers Chad Smith gründete er auch ein Nebenprojekt Chickenfoot, dessen Debut mit einer Goldenen Platte ausgezeichnet wurde. Das zweite Album von Chickenfoot startete in der Verkaufshitparade auf dem 9. Platz.

Seit der Erscheinung der Platte "What Happens Next" (2017) war Satriani auf Tournee mit G3 Guitar Extravaganza, an die er mit einer genauso erfolgreichen Tournee Experience Hendrix US Tour angeknüpft hat.

Ersatztermin:
Mo, 17.05.2021 | NEU: Mi, 11.05.2022

Bereits erworbene Tickets behalten für den neuen Termin im Mai 2022 ihre Gültigkeit und müssen nicht getauscht werden.

Wir bitten um Verständnis!

Änderungen vorbehalten.