Die Schlagernacht des Jahres 2019 - Schedule, Program & Tickets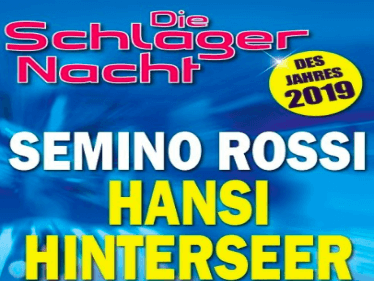 Die Schlagernacht des Jahres 2019
Semino Rossi - Hansi Hinterseer - Andy Borg - Johnny Logan - Nockis - Melissa Nashveng - Alf - The Daredevils - Eloy de Jong

Together on the big stage the giants of the German Schlager guarantee an evening in the character of a unique hit fireworks and big emotions - a sounding potpourri of the biggest hits!

They sing about great emotions and deep emotions, they address the true, all-enduring love - as well as casual acquaintances. They sing about the mountains, the wonderful home as well as the quiet longing for the distance. Tears of joy and broken hearts - joie de vivre and defeats. A contradiction? Not for the greats of the German Schlager! The lovingly composed and sensuously articulated songs not only do not exclude any topic, no feeling but rather manage to touch their fans deep inside and create happy hours. Each unique and unique, but one thing connects all the stars of the SCHLAGERNACHT OF THE YEAR 2019 - whether they are responsible for party junk or profound ballads responsible: The deep love of music that shapes the work of each of these distinctive artists.

Subject to change.