Der Herr der Ringe - Schedule, Program & Tickets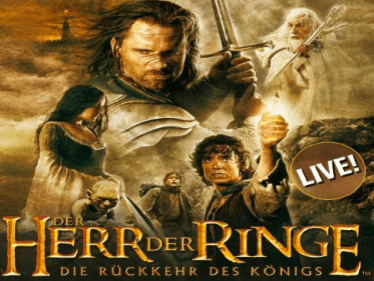 Der Herr der Ringe
Experience Howard Shore's monumental film music on December 7, 2019 live on "The Lord of the Rings - The Return of the King" on the big screen in the Wiener Stadthalle!

Since J.R.R. Tolkien published his three-part epic in 1954, The Lord of the Rings has impressed millions of readers and taken them into the world of Middle-earth. Now, after the great success of the first two parts, experience the third part of the trilogy "The Lord of the Rings - The Return of the King" as a special live event on a large screen accompanied by choir and orchestra!

With Oscar- and Grammy-winning film music, composer Howard Shore created a fully composed work that accompanies the storyline with emotional, complex interwoven themes and individual motifs for every culture in Middle-earth. Projected onto an oversized big screen, the film blends with the music for a unique adventure.

Howard Shore told Alegria in a personal interview: "It was a very big challenge to film this great and complex story and to compose the music for it. Working together with Peter Jackson was really fascinating and so inspiring that you really wanted to be part of this world. The clear line in the narrative of this complex action was always in the foreground for Peter and had to be reflected in the music, because even those who had not read the book should understand the films. So the story had to be musically narrated with leitmotifs and many different themes and thus became a medium that not only underlined the storylines, but also helped shape them. I had never worked that way before. "

Subject to change.