Chinesischer Nationalcircus - Schedule, Program & Tickets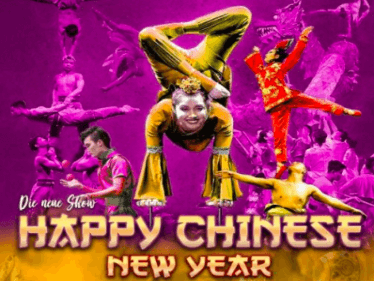 Chinesischer Nationalcircus
Das Fest des Chinesischen Neujahrs hat seit jeher im Reich der Mitte die Bedeutung von Weihnachten in unserem Kulturkreis.

30 Meisterakrobaten der Hunan Acrobatic Troupe of China zeigen unter der Regie von Raoul Schoregge in einer Choreografie von Sun Qing Qing ein besonderes Best of Programm aller legendären Highlights der Chinesischen Akrobatik. Eingebettet ist diese Symbiose aus atemberaubender Akrobatik und poetischem Tanz in eine berührende Geschichte.

Die Mitglieder einer renommierten Chinesischen Circus Akademie können aufgrund eines Bergrutsches nicht wie üblich zu ihren Familien reisen, sondern verbringen das Neujahrsfest zusammen in der Schule. Auf einer emotionalen Entdeckungsreise zu sich selbst und zu den kulturellen Höhepunkten der Chinesischen Geschichte erleben die jungen Ausnahmeartisten sowohl ihren Job als auch die Kultur ihrer Heimat völlig neu.

Begleitet wird dieses Feuerwerk der Artistik von der gelebten Einheit von Körper, Geist und Seele. Die Erkenntnis dass man nur gemeinsam stark ist und der außergewöhnliche Teamspirit der Artisten machen es im wahrsten Sinn des Wortes möglich Berge zu versetzen und die Grenzen der Schwerkraft aufzuheben.

Die Produktion in der Saison 2019/2020 wird genau zwischen Weihnachten und dem chinesischen Neujahrsfest auf Tournee geschickt. Kritiker hielten dieses Programm für die akrobatisch stärkste Präsentation chinesischer Circusshows der letzten 10 Jahre in Europa.

Änderungen vorbehalten.