Cavalluna - Schedule, Program & Tickets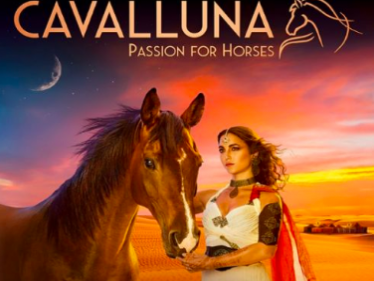 Cavalluna
Galloping through the Orient!

Cavalluna, Europe's most popular horse show, is returning and will be guesting at the Wiener Stadthalle from 6 to 7 June 2020. The new program "Legend of the Desert" promises a perfect combination of the highest horsemanship and best entertainment and thus seamlessly ties in with the successes of previous shows. Already young and old can look forward to an unforgettable journey through oriental worlds.

"Legend of the Desert" tells the story of the beautiful Princess Samira, who is to be crowned Queen. The pompous ceremony, however, is foiled by her evil cousin Abdul - a spectacular adventure begins with the fight between good and evil! Accompanied by a wild horse, the princess must unravel the mystery of the fabled Amazons of the Elements and learn how to stand up to the machinations of her cousin, accompanied by the power of nature. Because not only their people, but their entire empire are in the greatest danger!

Will Samira make it in time to accomplish this daring mission and save everything dear to her?

Subject to change.