Der Rosenkavalier - Schedule, Program & Tickets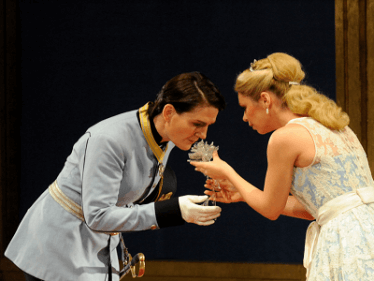 Der Rosenkavalier
Comedy for music in three acts libretto by Hugo von Hofmannsthal

Premiered August 29, 2000

In German with German and English surtitles

Musical direction Christian Thielemann
Staged by Uwe Eric Laufenberg
Stage design Christoph Schubiger
Costumes Jessica Karge
Light Jan Seeger
Choir André Kellinghaus
Dramaturgy Hella Bartnig, Hans-Georg Wegner

Field Marshal Camilla Nylund
Baron Ochs auf Lerchenau N.N.
Octavian Sophie Koch
Lord of Faninal Markus Eiche
Sophie Tuuli Takala
Marianne Leitmetzerin Ute Selbig
Annina Christa Mayer
Valzacchi Aaron Pegram
A singer Pavol Breslik
The steward of the Marshal Simeon Esper
A notary Matthias Henneberg
The steward at Faninal Jürgen Müller
A milliner Katerina von Bennigsen
A police commissioner Tilmann Rönnebeck
First Noble Orphan Ofeliya Pogosyan
Second noble orphan Alice Rossi
Third Noble Orphan Justyna Ołów

Saxon State Opera Chorus Dresden
Children's Choir of the Semperoper Dresden
Saxon State Orchestra Dresden

With the kind support of the Semperoper Foundation – Funding Foundation

A worldwide success that emanated from Dresden: In January 1911, the world premiere of Richard Strauss' »Der Rosenkavalier« took place in the Semperoper. Richard Strauss and his lyricist Hugo von Hofmannsthal have fused a turgid portrayal of rococo customs and a melancholy piece into the transience of this time into an ingenious »comedy for music«. – The married Field Marshal rediscovers her youth in her love for the younger Octavian. But she painfully realizes that the passage of time cannot be stopped. When Octavian is supposed to deliver the silver rose as a suitor for the dowry hunter Ochs auf Lerchenau, the unstoppable happens: the suitor and the bride fall in love. With a comedic masquerade, Octavian eliminates his client, and the field marshal releases Octavian: »I vowed to love him in the right way«... Uwe Erik Laufenberg staged »Der Rosenkavalier« as a modern homage to the Dresden premiere.


Subject to change.