Aida - Schedule, Program & Tickets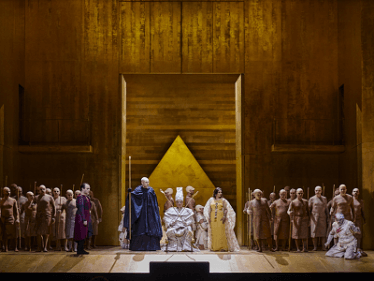 Aida
Opera lirica in four acts libretto by Antonio Ghislanzoni

Premiering March 5, 2022

In Italian with German and English surtitles

Christmas Eve 1871. In the newly built opera house in Cairo, the curtain rises for the premiere of Giuseppe Verdi's opera »Aida«. In a culturally and historically memorable moment, occidental and oriental longings for exoticism here and ennobling by European high culture there merge into a brilliant performance. Since then there have been few opera titles that are more popular. And rightly so, since »Aida« contains a music-dramatic treasure in the best sense of the word with its musical-scenic effects and exotic sounds, the sophisticated colourfulness of the instrumentation and the alternation between monumentality and intimacy. Even more. Based on the tragic love of the Ethiopian princess Aida and the Egyptian general Radamès, which is torn between the interests of state, church and relatives, Giuseppe Verdi reflects the crisis-ridden state of the modern individual – to end with a highly touching plea for the utopian power of love end up.



Subject to change.