Wiener Blut - Schedule, Program & Tickets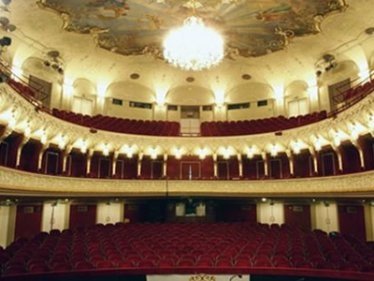 Wiener Blut
Operetta in three acts by Victor Léon and Leo Stein Music by Johann Strauß (Sohn) / Adapted for the stage by Adolf Müller (jun.) / In German

It's such a thing with the blood of Vienna: one is supposed to have it, the other one is not. The vivacious Viennese Gabriele and Balduin Graf Zedlau marry, but the count does not correspond to Gabriel's ideas: He is boring and stuffy, a typical envoy of Reuss-Schleiz-Greiz, without any wit! That's why Gabriele moves back to her parents' castle. Meanwhile, however, Balduin Graf Zedlau band together with the beautiful Franziska Cagliari and also with Pepi Pleiniger, the girlfriend of his servant Josef. This fuels Gabriele's jealousy. When Prince Ypsheim-Gindelbach, the Prime Minister of Reuss-Schleiz-Greiz, enters the scene and looks like Josef is beginning to have an affair with Franziska Cagliari, the confusing exchange of partners does not appear to be resolvable. The blame for the chaos is - of course on the blood of Vienna!

The three-act operetta, which sweeps over the stage inspired by the immortal melodies of Johann Strauss (son), was commissioned by Franz Jauner, the director of the Vienna Carltheater, to the Waltz King. Since Strauss was already 73 years old at that time, it was decided to put together from his rich music creation suitable compositions to a new libretto by Victor Léon and Leo Stein. Due to the sheer abundance of his works - more than 500 pieces in total - Johann Strauss was unknown to some of his own melodies.

Despite initial difficulties - the premiere could take place only months after the death of the brilliant composer on October 25, 1899 - counts "Viennese blood" next to "Die Fledermaus" to Johann Strauss (son, 1825-1899) master operetta, the unbroken large Enjoy popularity.

Marco Dott has already impressed audiences in Salzburg with various productions, including his own creation "Hotel Europa", Thomas Bernhard's "The Power of Habit", Rossini's "Il turco in Italia" and the baroque opera "Dafne" in the Heckentheater. In Robin Davis he has a sovereign musical partner at the podium of the Mozarteum Orchestra.

Subject to change.