Tribute to Frank Sinatra - Schedule, Program & Tickets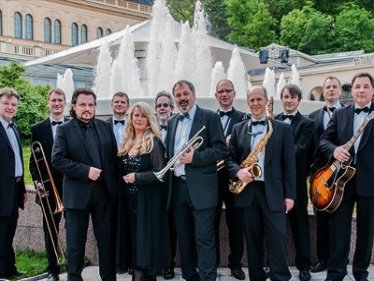 Tribute to Frank Sinatra
Let's Swing mit der Gerhard Aflenzer Broadway Big Band!
Vocals: Eva Hag, Werner Auer, Reinhard Reiskopf
Special Guest: Stella Jones

«Er ist der Mercedes unter den Männern», so beschrieb Marlene Dietrich Frank Sinatra. Er ist der Rolls Royce unter den Entertainern, so könnte man den Ausspruch der legendären Diva weiterspinnen. Unvergessen und bis heute unerreicht lebt er in seinen zahllosen Welthits weiter. Aus Begeisterung an der Musik des so genannten Rat Pack entstand das Konzertprogramm der Gerhard Aflenzer Broadway Big Band. Für alle Freunde und Fans von Frank Sinatra, Dean Martin und Sammy Davis Jr. wurden bei der Programmgestaltung die besten und bekanntesten Titel wie «Fly Me To The Moon», «Strangers In The Night», «Everybody Loves Somebody», «Mr. Bojangles» und viele andere Songs dieser großartigen Entertainer ausgewählt. Die Vokalisten präsentieren unvergessliche Hits, mit denen das Rat Pack einst alle Frauen schwach machte. Jene Lieder, die man mit Nächten in New York und Las Vegas verbindet, werden bei diesem Programm nicht fehlen.
Special Guest des diesjährigen Konzertes ist Stella Jones», eine großartige Soul- und Jazz-Sängerin, Pianistin, Arrangeurin und Komponistin. Sie ist die Tochter des amerikanischen Bebop Trumpet Players Carmell Jones und der Blues-Sängerin und Fluxus-Künstlerin Christine Jones. Sie kann auf Engagements unter anderem bei Taylor Dayne, Gloria Gaynor, Chaka Khan oder dem Vienna Symphonic Orchestra Project zurückblicken.

Änderungen vorbehalten.