Malina - Schedule, Program & Tickets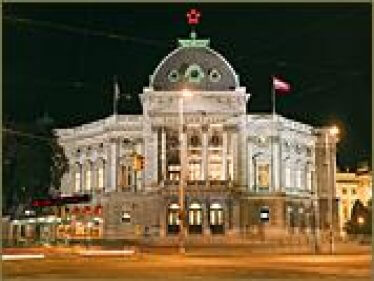 Malina
"How happy I was, happy. And I've promised myself I'll never complain again, never accuse anyone if I've only been allowed to be happy once. But now I want to prolong this happiness, I want it like everyone who has experienced it, this goodbye happiness that has had its time."

MALINA. A crime novel, a love story, a social drama. A comedy of manners, a psychological thriller, a puzzle. Bachmann's only novel remains an open wound, a crack in the wall of literary history. MALINA. A title, but not a woman's name, no, not really, not even a first name. Appeared in 1971 as the first and only volume of the large-scale novel project DEATH TYPES, panned by literary criticism and later rehabilitated: MALINA. Filmed in 1991 as considered unfilmable, all conceivable and unthinkable interpretations pointed to, as a processing of the Nazi period, as an autobiography, as a reckoning, again and again as a prophetic farewell vision: Ingeborg Bachmann dies two years after the publication in Rome, she is only 47 years old, 2023 marks the 50th anniversary of her death. The famous last sentence: "It was murder." MALINA.

The scene of the action is Vienna, as both Hell and Arcadia. Ivan lives at Ungargasse 9, Malina and the narrator live at Ungargasse 6. And her father lives in her nightmares. An impossible love story unfolds between the controlled businessman Ivan and the nameless narrator – full of blind devotion and clairvoyant differentiation.

And gradually her roommate also appears, the silent historian Malina, who initially protects her, but then more and more glides over her like a shadow. Reality and feverish dreams, inside and outside, me and him, increasingly blur. A struggle for identity, for self-assertion, for one's own desire. Survival in his male world seems impossible. Ingeborg Bachmann himself wrote about the novel: "A woman between two men. One last great passion. A body that is not found. Blurred tracks, footsteps. So someone who still walks up and down in this apartment – for hours: MALINA."

Director Claudia Bauer returns humanistää! returns to the Volkstheater – and once again devotes itself to an icon of Austrian post-war literature.

Subject to change.
Malina
von Ingeborg Bachmann in einer Bühnenfassung von Matthias Seier
Malina
von Ingeborg Bachmann in einer Bühnenfassung von Matthias Seier