The Three Tenors - Chiesa San Paolo - Schedule, Program & Tickets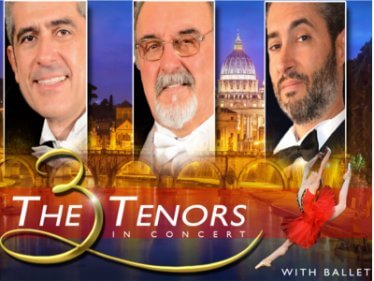 The Three Tenors - Chiesa San Paolo
The three tenors in concert with ballet
napul'è opera arias and ballet
The "Opera in Roma" tenors and classical dancers

The best memory you can bring from Italy.

The three tenors in concert. In the beautiful church ST. PAUL'S IN THE WALLS in the center of Rome, three renowned tenors of the opera in Rome and sumptuous dancers in costumes will play beautiful opera arias and the most famous songs of the Neapolitan tradition.

The magic Torna a Surriento, O 'sole mio, Funiculì funiculà, but also enchanting opera arias are played in the same concert in this unique opportunity.

-------------------------------------------------- -
Dinner & Concert

A culinary and musical experience in Rome.
With your pre-concert ticket, you can enjoy a delicious, typically Roman menu, prepared by a renowned chef at the COTTO restaurant (Via Torino 124), just 50 meters from the Concert Hall.

It is close to the Repubblica metro station and St. Paul's In the Walls church, which stands out for its charming design and elegant style, and together with the friendly and professional staff of the staff, it is the perfect setting for a special evening in a couple or in a group.

You will come close to Roman cuisine, the only one that turns simple ingredients into high quality and refined dishes.

Dinner: 18.30

Restaurant "COTTO Restaurant" Via Torino 124

Subject to change.