THE MONROES - Schedule, Program & Tickets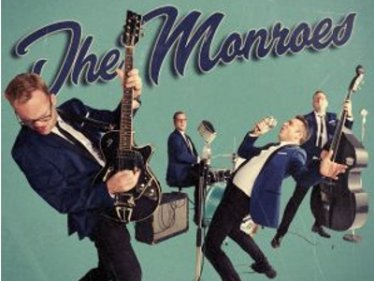 THE MONROES
THE MONROES setzen der musikalischen Ära der 50er und 60er Jahre und den altehrwürdigen Ikonen des Rock'n'Roll mit maximaler Spielfreude, mehrstimmigen Gesang und einer in Schweiß getränkten Bühnenshow ein Denkmal.
Seit mehr als 20 Jahren heißt es für das stets adrett gekleidete Quartett: auf der Bühne gilt Krawattenpflicht und das, ohne Wenn und Aber. Bereits kurz nach ihrer Gründung im Jahr 1997 werden THE MONROES von der Presse und der schnell wachsenden Fan-Community als "Local Heroes" gefeiert. Die Band avanciert innerhalb von 2 Jahren vom Geheimtipp zur fixen Größe im Musikbusiness und peitscht von einem Erfolg zum nächsten. Mit über 1500 nationalen und internationalen Auftritten, zahlreichen Fernsehauftritten und Top-Platzierungen bei Radio- und Streamingdiensten zählen THE MONROES zu den erfahrensten und erfolgreichsten Bands des Landes.

THE MONROES sind, was sie immer waren: erdig, rau und unverwechselbar. Und sie bleiben, was sie sind: "Live-Kings des Rock'n'Roll", die einen längst vergessen scheinenden Lifestyle mit 4 Krawatten, 1 Schlagzeug, 1 Kontrabass, 1 Gitarre und 4 Stimmen wieder Leben und Seele einhauchen.

ACHTUNG: der Saal ist nur teilweise bestuhlt, denn wen hält es schon auf den Sitzen, wenn die Jungs losrocken!

Änderungen vorbehalten.