Sweeney Todd - Schedule, Program & Tickets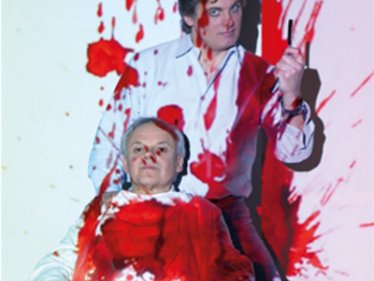 Sweeney Todd
Musical from Stephen Sondheim

Regie : Matthias Davids
Bühnenbild : Mathias Fischer-Dieskau
Kostüme : Susanne Hubrich
Licht : Fabrice Kebour
Choreinstudierung : Thomas Böttcher
Dirigent : Joseph R. Olefirowicz

Sweeney Todd : Morten Frank Larsen
Mrs. Lovett : Dagmar Hellberg
Richter Turpin : Robert Meyer
Tobias Ragg : Tom Schimon
Anthony Hope : Alexander Pinderak
Johanna : Anita Götz
Büttel Bamford : Kurt Schreibmayer
Rodolfo Pirelli : Vincent Schirrmacher
Bettlerin : Patricia Nessy
Jonas Fogg : Franz Suhrada
Vogelhändler : Georg Wacks

After many years of exile, the barber Sweeney Todd returns to his home town of London, in order to take bloody revenge on his tormentor, Judge Turpin. When Turpin escapes him, Todd in his rage becomes a mass murderer, slitting his customers' throats. His accomplice, the pie maker Mrs. Lovett, makes meat pies out of his victims. The multi-award winning "musical thriller" by Stephen Sondheim, first performed in 1978, was made into a film starring Johnny Depp in 2007.