Schöne Bescherungen - Schedule, Program & Tickets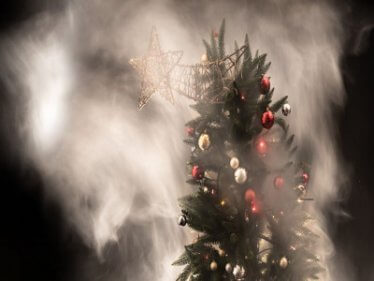 Schöne Bescherungen
What would the festival of love be without the dear family who come every year to celebrate peacefully together? Everything should be perfect on the most important holiday of the year. But the lighter the candles burn on the Christmas tree, the faster the family peace is in danger and conflicts flare up. Uncle Harvey wants to give the children real guns and Uncle Bernhard annoys everyone with his puppet theater.

The classic comedy "Schöne Bescherungen" takes a close look at Christmas and its areas of tension in an inimitable way and conjures up a family celebration in the middle-class home of Neville and his wife Belinda, which, thanks to safe slapstick and skillfully set conflict potential, inevitably has to go wrong. When sister-in-law Rachel brings her attractive crush Clive with her to the family disputes, all women's hearts go into rapture and the Christmas nightmare takes its course: Rachel loses Clive to her younger sister, the puppet show fails, one excess alcohol chases the next - only the drum bear works perfect …

The great British author Alan Ayckbourn (* 1939), "Great Britain's most popular contemporary dramatist" (The Economist), has received several awards for his now well over 80 plays, including seven times the Evening Standard Award. In 1997 Ayckbourn became the first playwright since Terence Rattigan to be raised to the nobility. In 2008 he received the Laurence Olivier Special Award in England for his life's work, and in 2010, also for his life's work, the Special Tony Award in New York.

In "Schöne Bescherungen", Alan Ayckbourn dissects the rituals of bourgeois happiness as a great ensemble comedy with gorgeous and multi-layered characters and snappy British wit and madness. It "increases the gentle horror, the festive madness that is inherent in recurring holidays and family gatherings: up to adultery under the Christmas tree and attempted manslaughter." (Theater heute)

Subject to changes.