Dinner Cruise & Gellért Bath - Schedule, Program & Tickets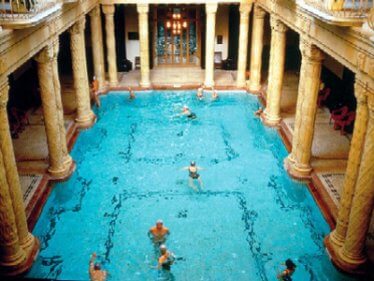 Dinner Cruise & Gellért Bath
A visit in Budapest is not complete without bathing in one of its world-famous thermal spring spas. It is no wonder, that the Romans discovered the healing effects of the thermal springs long ago, however the true uprising of the bathing culture in Hungary began during the turkish times. We offer entrance tickets for the two most elegant thermal baths of Budapest: Széchenyi and Gellért Bath.

The vibrant city of Budapest has various faces. At night it calms down, the lights are lit, and a new city awakens after sunset. We created this program for those, who would like to enjoy the wonderful view of the city swimming in lights, accompanied by a real candlelight atmosphere with a romantic dinner and live music. The delicious meals on our boats, are prepared by Chef Molnárka Péter.

The salon music is performed by three members of the Kodály Zoltán Awarded Hungária Folk Orchestra, including the world-famous violinist Vidák Zsigmond (awarded with the Bronze Merit Cross of the Hungarian Republic).

The cruise starts at 19:00; meeting time is 18:30 at the Danube Palace.
You can enter the spas between 09:00 and 18:00, through our Help desk;
there is a possibility to take part int he programs on different days up to your preferences.
The current bath complex and hotel was opened in 1918, and was expanded in 1927 and 1934 with artificial wave pool, and with bubble bath.

Today its working also as a medical bath, with wide variety of services, including even an inhalatorium.