Turandot - Schedule, Program & Tickets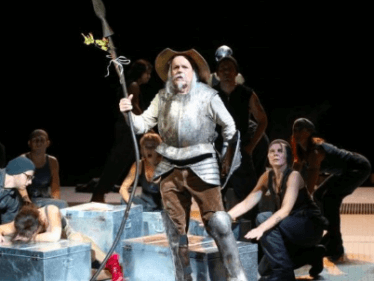 Turandot
Long ago in distant China ...
The same spectacle has been going on for years: Noble suitors from all over the world compete for the princess Turandot, who binds her conquest to the solution of three puzzles. If you fail, you die. Calaf witnesses an execution, but cannot escape the broadcast of Turandot. Nothing prevents him from deciding to win the princess over.

Staging of Puccini's last opera often turns into a clichéd set spectacle. What seemed exotic and interesting in the premiere year 1926, reports almost nothing new almost a hundred years later and runs the risk of giving the impression of an over-decorated Chinese restaurant. Renaud Doucet and André Barbe therefore took a different path and relocated the fairy tale about the ice-cold princess to the exotic realm of insects.

Conductor Alfred Eschwé
Direction and choreography Renaud Doucet
Set design and costumes André Barbe
Light guy simard
Stage design assistant Kerstin Bennier
Chorus master Thomas Böttcher

Turandot, Chinese princess Melba Ramos
Altoum, Emperor of China Thomas Sigwald
Timur, dethroned King of the Tartars Sorin Coliban
Calaf, his son Vincent Schirrmacher
Liù, a young slave Anja-Nina Bahrmann
Ping, Minister Alexandre Beuchat
Pang, Minister David Sitka
Pong, Minister Hui Jin
Mandarin Yasushi Hirano

Subject to changes.