Die Fledermaus - Schedule, Program & Tickets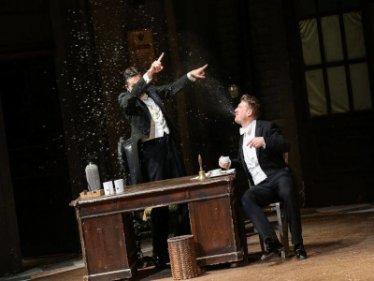 Die Fledermaus
Operetta by Johann Strauss

In German with English surtitles

"Happy is he who forgets what cannot be changed!" It is probably the most popular, but certainly the most Viennese of all operettas: Johann Strauss' immortal bat. Excessive parties, erotic mistakes, conspiracies, intrigues and a large portion of malicious joy: the climax of the golden operetta era offers ambiguous entertainment in waltz time. And if the social façade is crumbling too much, you can still blame the champagne for everything. "Im Feuerstrom der Reben" (In the Fire Stream of the Vines) is easy to go overboard.

The Volksoper is considered the most Viennese opera house in the city. So it is not surprising that Johann Strauss's masterpiece is part of the family silverware here. No work has ever been played more often at the Volksoper. At the beginning of Lotte de Beer's artistic directorship, the performance was carefully refreshed, and since then a female bailiff has provided a fresh look at a well-known piece.

Subject to change.