Oper Klosterneuburg - La Bohème 2022 - Schedule, Program & Tickets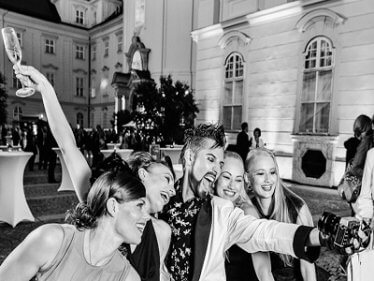 Oper Klosterneuburg - La Bohème 2022
Opera by Giacomo Puccini

Paris. Latin Quarter. A poet, a painter, a musician, a philosopher - a young artists flat share. Destitute. In the constant happy fight against debt, hunger and cold. Ingeniously improvising, living into the day. The enchanting neighbor Mimì, with whom Rodolfo, the poet, falls madly in love, enters this world. But their love is overshadowed by Mimì's illness and is limited in time...

The penniless artist friends Rodolfo, a poet, Marcello, a painter, the philosopher Colline and the musician Schaunard live in a cold Parisian attic apartment. They lack money for rent, food and firewood. Schaunard at least manages to raise funds for a boisterous celebration on Christmas Eve. After successfully turning away Benoît, their landlord, the friends set out for their favorite bar, Café Momus. Rodolfo stays behind to finish a text. Then there's a knock at the door: Mimì, a young neighbor marked by a serious illness, is looking for light. Rodolfo helps her and they fall in love. Together, the couple joins the hustle and bustle in the Latin Quarter.
In the meantime, Marcello meets an old love at Café Momus: Musetta, accompanied that evening by the old but rich Alcindoro. Musetta does everything she can to get Marcello's attention back, and he soon gives in to her powers of seduction.
Two months have passed: Marcello and Musetta have resumed their usual quarrels and even Rodolfo and Mimì's relationship is clouded. But Mimì doesn't know the real reason for Rodolfo's rejection: he can't stand to watch her approaching death. When she finds out how bad things are for her, she wants to leave Rodolfo. But both of them can't bring themselves to do that. They decide not to part until spring.
A few months later, back in their attic apartment, Rodolfo and Marcello try to distract themselves from their worries with work and partying. Then Musetta returns with the terminally ill Mimì. The friends care for her and rush to organize medical help; Rodolfo and Mimì stay behind alone. Finally united in Mimì's hour of death, they remember their beautiful time together.


Subject to change.