Onegin - Schedule, Program & Tickets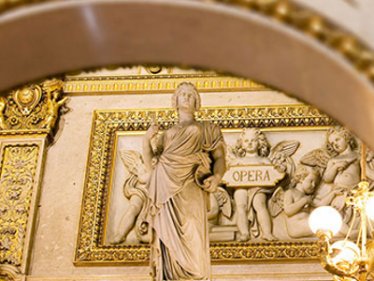 Onegin
Peter Iljitsch Tschaikowski, Kurt-Heinz Stolze | Komponisten
Guillermo García Calvo | Dirigent
John Cranko | Choreographie und Inszenierung
Elisabeth Dalton | Bühnenbild und Kostüme

Synopsis

Act 1
Madame Larina's garden
In the garden, Madame Larina, Olga and the nurse are finishing party dresses and discussing Tatiana's upcoming birthday celebrations. They think about the future, and the local girls play an old folk game: whoever looks into the mirror will see her beloved. Lensky, a young poet engaged to Olga, arrives with a friend from St. Petersburg. He introduces Eugene Onegin, who has come to the country to see if it can offer him any distraction from city life. Tatiana falls in love with the handsome stranger, who seems so different to the country people she knows, while Onegin only sees a naive, romantic girl.
Tatiana's bedroom
That night, Tatiana dreams of Onegin, her first love. She writes him a passionate love letter, which she asks her nurse to deliver.

Act 2
Tatiana's birthday
The local gentry have all arrived to celebrate Tatiana's birthday. Onegin finds the company boring and is struggling to be polite. He is also annoyed by Tatiana's letter, which he thinks is just an outburst of adolescent love. He seeks Tatiana out and tears up her letter, telling her that he cannot love her. Prince Gremin, a distant relative of Tatiana who is in love with her, appears. Madame Larina hopes they will make a good match, but Tatiana hardly notices him as she is so distressed. Onegin decides to provoke Lensky by flirting with Olga, hoping it will relieve his boredom. Olga joins in with the joke, but Lensky takes it seriously and challenges Onegin to a duel.
The duel
Tatiana and Olga try to reason with Lensky but he insists the duel must go ahead. Onegin kills his friend.

Act 3
St Petersburg
Years later, Onegin returns to St. Petersburg after travelling the world. He goes to a ball at the palace of Prince Gremin. Onegin is surprised when he recognises the beautiful Princess Tatiana as the country girl he once turned away. He realises how much he lost through his previous actions.
Tatiana's boudoir
Onegin writes to Tatiana and reveals his love. He asks to see her but she does not wish to see him. She pleads with her husband not to leave her alone that evening. Onegin comes and declares his love for her. Tatiana feels Onegin's change of heart has come too late. She tears up his letter and orders him to leave her forever.

Änderungen vorbehalten.