Louie's Cage Percussion - Schedule, Program & Tickets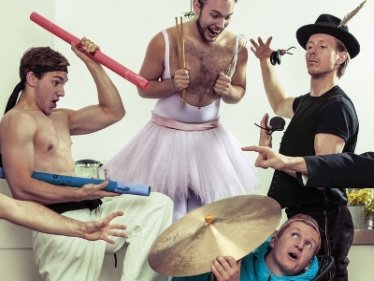 Louie's Cage Percussion

1431/5000
Dominic Feichtinger, Sebastian Brugner, Florian Klinger,
Joachim Murnig, Krištof Hrastnik, Lucas Salaun

Louie's Cage Percussion is an ensemble that loves the variety and the new. Anyone who likes to divide music into genres will therefore find it difficult to put these six young musicians in a drawer because their music has its roots in classical music, its tribe in jazz, its branches in electronic music and its branches in acting.
The instrument range extends from drums and percussion instruments from around the world to the guitar, keyboards, tuba and vocals. Who listens to this ensemble will give his ears a surprise and let his body feel the joy of music. The team is supported by a digital and visual artist, the program Sketchbook is a heuriger table full of stories.
For this reason, the six LCPs have drawn a book full of everyday and extraordinary, funny and sad, exciting and dreamlike moments. The rousing movie, the cozy television afternoon, the brilliant opera evening, the intoxicating jazz concert, the Oberkrainer quintet at the Musikantentreffen, the fairytale lesson with the grandmother, the sweaty dance night at the club, under the starry sky with the first love. Everyone has their own stories to tell, and each one has its own magic.

Subject to change.