La Juive - Schedule, Program & Tickets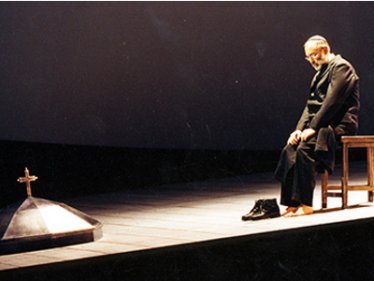 La Juive
Jacques Fromental Halévy

Frédéric Chaslin | Dirigent
Günter Krämer | Inszenierung
Gottfried Pilz | Bühnenbild und Kostüme
Isabel Ines Glathar | Bühnenbild und Kostüme

Neil Shicoff | Eléazar, ein Goldschmied
Soile Isokoski | Rachel, seine Tochter
Ileana Tonca | Prinzessin Eudoxie
Alexandru Moisiuc | Kardinal Brogni

act I
Konstanz 1414.
The amount cheered the imperial princes Léopold victory over the Hussites . Ruggiero , Mayor of Konstanz, announced that the meeting in the City Council have scheduled a festival of joy .
In spite of the feast Eléazar working in the house of the Jewish goldsmith. It represents him and his daughter Rachel to task. Eléazar confesses that he does not take care of the customs of a church , his two innocent sons had been killed by the former . Then Ruggiero , he faces the death penalty.
The council president Cardinal Brogni added kick, ask for the name and origin of the Jews. Eléazar reminds him that he had banished him from Rome by force , as Brogni was still in government service and had a wife and daughter. The Cardinal asks Eléazar pardon, he was pardoned , Brognis could be friend. But Eléazar rejects the gesture of reconciliation.
The different viewpoints are clear: Borgni thinks that Jews should be granted mercy of God , Rachel does not want to hate the Christians , when their side of peace is promised , Eléazar wants Christians the destruction, even if promised by this toleration of the Jews is , and Ruggiero notes that the Jews would remain the enemies of all Christians.
Léopold married to Princess Eudoxie , is the secret lover of Rachel , where he pretends to be a Jewish painter named Samuel . Rachel invites him to an evening Passover meal.
Also Eleazar and Rachel would like to attend the pageant. Because both have brought to the dome door , Ruggiero can be arrested again. But since Léopol intervenes , and immediately the prisoners are released. Rachel can not explain this influence of her lover . As part of the festival, which takes its course , the youngest child of Eudoxie and Léopold is baptized .
2 act
Passover meal in Eleazar's house. Also Léopold , disguised as a Jew Samuel , is present . You pray , Eléazar distributed unleavened bread. Léopold can be pieces of bread disappear under the chair , which only Rachel noticed.
There is a knock . As a precaution, the Jewish dinner table is cleared , Léopold hidden . Princess Eudoxie enters Eleazar's house to order for her husband jewelry. After she leaves again , admits Léopold Rachel to be a Christian. She is shocked , but can nevertheless be persuaded by Léopold to flee. Eléazar confronts the two. Despite the intention of fleeing he wants to Léopold go unpunished. But as this admits to being a Christian, Eléazar wants to kill him . Only Rachel's grief moved the goldsmith to forgive . He wants to give her beloved husband to Rachel . Now Rachel has Léopold back : it was a marriage with the Jew impossible. Eléazar vows revenge , Léopold flees .
3 act
Rachel has Léopold traced to the palace Eudoxies and sneaks there as a servant. During a festive choral society of Leopold's praises heroic deeds.
Eléazar brings appointed by Eudoxie jewelry. When she wants Léopold reassign the chain on behalf of the Emperor, Rachel intervenes and snatches her the necklace . Now she has realized the true identity of her lover , accuses him of perjury and publicly disclosed that he had had with her, a Jewish woman , against the law , a love relationship. Léopold does not dare to defend themselves. Brogni imposed a anathema on Eléazar , Rachel and Léopold .
4 act
Princess Eudoxie visited the imprisoned Rachel . Only if these revoke their statement against Léopold , he could stay alive. Rachel relents and rescues so Léopold .