La Cenerentola - Schedule, Program & Tickets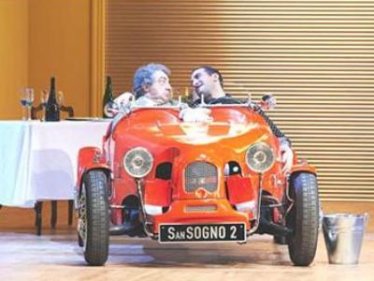 La Cenerentola
Composer: Gioachino Rossini

Jesús López-Cobos | Dirigent
Sven-Eric Bechtolf | Regie
Rolf Glittenberg | Bühnenbild
Marianne Glittenberg | Kostüme
Jürgen Hoffmann | Licht

Juan Diego Flórez | Don Ramiro
Tae-Joong Yang | Dandini
Alessandro Corbelli | Don Magnifico
Elizabeth DeShong | Angelina
Ildebrando D`Arcangelo | Alidoro

La Cenerentola, ossia La bontà in trionfo is an operatic dramma giocoso by Gioacchino Rossini. The libretto was written by Jacopo Ferretti, based on the fairy tale Cinderella. Rossini´s La Cenerentola was first performed in Rome in 1817. Rossini composed La Cenerentola when he was 25 years old, following the success of The Barber of Seville the year before. La Cenerentola, which he completed in a period of three weeks, is considered to have some of his finest writing for solo voice and ensembles.

Synopsis
Angelina (Cenerentola) has a stepfather (Don Magnifico), and the traditional Fairy Godmother is replaced by Alidoro, who is a Philosopher and former Tutor to the Prince. Don Magnifico´s spoilt and vain daughters are Clorinda and Tisbe, who are very selfish and self-absorbed. Prince Ramiro and his valet, Dandini, change places so that the Prince can find a bride who will love him for himself, and not for his social status. Matching bracelets replace the traditional glass slipper as the means by which the Prince finds Cenerentola. (It is of note, however, that editors of the G. Schirmer Cenerentola Italian English vocal score added an alternate ´glass slipper´ recitative--in English only--as an option for performance.) While Ramiro is disguised as a valet, Dandini (pretending to be the Prince) offers his ´valet´ as a marriage partner to whichever of the two sisters (Clorinda and Tisbe) he does not marry. Both sisters haughtily reject the offer of the ´valet´ (Ramiro) as husband, in terms which he later quotes back to them after he has resumed his proper position as Prince. While Ramiro and Dandini are still pretending to be each other, Cenerentola tells the ´Prince´ (Dandini) that she is love with his ´valet´ (Ramiro)..