La Bohème - Schedule, Program & Tickets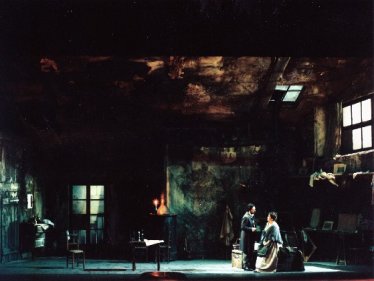 La Bohème
Composer: Giacomo Puccini

Dan Ettinger | Dirigent
Franco Zeffirelli | Regie und Bühnenbild
Marcel Escoffier | Kostüme

Dmytro Popov | Rodolfo
Krassimira Stoyanova | Mimì
Alessio Arduini | Marcello
Valentina Naforniţa | Musetta

First Act

The Christmas Eve is in the inhabited by four young artists miserable attic is hardly different from other nights:: In the attic Marcel is working on a painting, Rudolf, poet and writer, looking out over the rooftops of Paris. They have no money, they freeze and are still in good spirits. A bundle of manuscripts only heats the oven for a few moments. Collin, in his capacity philosopher, without having achieved anything comes home - the pawn shop was closed. But the fourth, Schaunard, the musician has more luck. He told no one listens to - the food brought to promise you a Merry Christmas. Schaunard but wants it otherwise - on Christmas Eve is assumed. Still in danger: the landlord knocks and calls for the rent. A glass of wine and the friendliness of the artists make him stumble into the trap, winking, he speaks of a love affair, is reason enough for the friends, to show him with well-feigned moral indignation the door.
Rudolph is still to finish an article, go ahead while the others into the Cafe Momus. It knocks: a young woman is outside, she would light the candle extinguished. Tormented by coughing, she collapses. Then, grateful for the aid granted, she wants to go back, but the home is key, not so coincidentally, been lost, the draft can extinguish all the lights. In the darkness, there are hands. Mimi will call them, they can know they embroider flowers ... Outside the call friends. Christmas Eve has lost its gloom.

Second Act

The Latin Quarter: The student quarter of Paris, offers a colorful picture. Crowds of people run through the streets. Rudolph buys Mimì a bonnet of his and invites them to the Café Momus, sets it in front of friends and is looking forward to their admiration. Only Marcel grief, and his grief has a name: Musetta. On the side of an equally ancient and rich gallant she appears to move with the firm intention to involve all the art of seduction. This put forward in public onslaught is not Marcel grew: and an old love is cemented fresh.

Third Act

The barrier d'Enfer: A cloudy morning in February at the customs barrier that separates a Parisian suburb of the city. Laborers, carters, milk, women are allowed to pass, pass by the inn, which is decorated with a half-finished picture Marcel. The wind seems herüberzuwehen Musettes voice. It's cold. Mimi had a fight with Rudolph, Marcel will teach. Rudolf seems to escape them, they do not know why. Marcel also does not suspect the real reasons, they discovered him, Rudolf: Mimì is dying, she had to live only a short time, and he can not stand, they see suffering. He must endure even more: Mimì has overheard a death sentence, a fit of coughing reveals her presence. Rudolf's love and manage the most difficult: to alleviate distress, to bring peace in the tormented heart. Strange contrast: Marcel and Musetta. Their love seems to seek the dispute.

Fourth Act

In the attic: Three or four months have passed. Marcel and Rudolf have lost their loved ones. Thoughtfully, they sit at work. Where is Musetta, Mimi is where? Can repeat the reckless days of yore? It almost seems like this: as soon as Schaunard and Collin come with a few poor food, the atmosphere is better, trying to dig out the old gaiety, theater plays, dances, dueling ... Musetta brings in Mimi, Mimi, marked by death. Everything is committed to them, they gratefully acknowledges the friends. Through her eyes Musette and Marcel are combined. Musetta sacrifices her earrings in order to meet the patient's last wish: a muff. And Collin, a philosopher with a heart, put his old coat. Rudolf remains with the dying, and they are alone with their memories. The Friends are back with their gifts, one last joy for Mimi. Gently she sleeps over.