Konzerte im Stephansdom - Schedule, Program & Tickets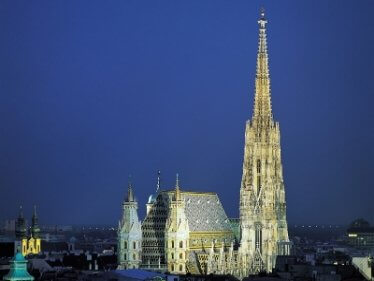 Konzerte im Stephansdom
St. Stephen's Cathedral and the composers J. Haydn and W. A. ​​Mozart

Franz Joseph Haydn
Joseph Haydn arrived in 1740 as a chaplain at St. Stephen's Cathedral, where he remained for nine years as a chaplain, including the last four at the same time with his brother Michael. After the onset of the vocal break he had to leave the cathedral and worked for some time as a freelance artist, until he entered the services of the Esterhazy family. In 1760 Haydn married his wife Maria Anna Aloysia in St. Stephen's Cathedral, a marriage that remained childless.

During his lifetime, W. A. ​​Mozart was associated with the cathedral in several ways: he married Constanze Weber, had two of his children baptized in the cathedral and a few months before his death, Mozart applied for the Kapellmeister adjunct position at St. Stephan.

When Mozart died on 5 December 1791 of "fresh Frieselfieber", he belonged by his apartment in the Rauhensteingasse to Dompfarre St. Stephan. His name is therefore found both in the death record and in the so-called Bahrleihbuch (death fee book). After the requiem in the cathedral and the blessing in the cross chapel on the way to the catacombs, the transfer and burial took place in the cemetery of St. Marx responsible for St. Stephen.

We hear today Mozart's Vesperae solennes de Confessore KV 339, which contain a true "street tune" of church music, the famous Laudate Dominum.

Haydn and Mozart
The two composers met several times and Haydn became Mozart's mentor and paternal friend. A letter dated 1785 from Leopold Mozart to his daughter Nannerl, in which he says that Joseph Haydn said about his son, "I tell you before God, as an honest man, your son is the greatest composer I have as a person and know by name ".

In fact, the fame of Mozart should later overtake that of his father's friend.