Ja, eh! - Schedule, Program & Tickets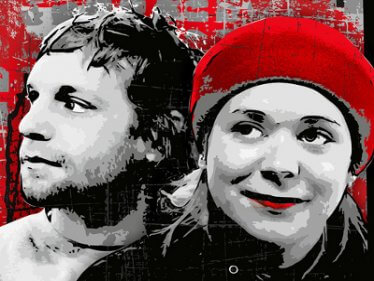 Ja, eh!
The Gemeindebautheater takes you directly into the world of the literary phenomenon Stefanie Sargnagel. Between poetry and rudeness, between lethargy and rock'n'roll.

Part of the party is the shooting star of the new Austropop: Voodoo Jürgens.

Punctuality, sports, healthy eating, one-family house, two children and a Golden Retriever? Or would you rather spend some nights, chain smoking in the grisly Beisl spend?

The dichotomy that Stefanie Sargnagel treats in her texts is representative of a whole generation that does not know where to go in life. The inner desire for orderly relations is permanently boycotted by the temptation of the vicious.

In the Gemeindebautheater, this discrepancy now turns into a musical-cheeky stage show - melancholic and witty, poetic and direct.

The acting ensemble is reinforced with the man of the hour in the Austrian pop scene: Voodoo Jürgens, who together with his band will ensure the authentic musical design.

More Vienna is not working.
The mirror

... funny and relevant. An important piece - for everyone.
3sat culture time

... absolutely worth seeing.
The press

... a great pleasure, a real hunt.
courier

... a collective noise experience.
The world

To the author:
From the Facebook phenomenon Stefanie Sargnagel developed in recent years, a new literary star. In 2016 she was the only Austrian participant in the Bachmann Prize, where she won the Audience Award.
Her pointed comments and observations are now published in the German features section, two books and regular reading tours through Austria, Switzerland and Germany testify to the tremendous success of this young author.

with: Miriam Fussenegger, Saskia Klar and Lena Kalisch

Music: Voodoo Jürgens and band
Texts: Stefanie Sargnagel
Version: Christina Tscharyiski and Fabian Pfleger
Director: Christina Charyiski
Equipment: Sarah Sassen
Costumes: Catia Palminha

Subject to change.