Den Norske Opera & Ballett - Schedule, Program & Tickets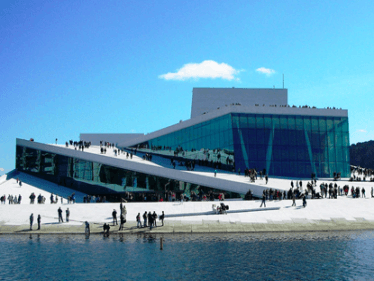 Den Norske Opera & Ballett
The Norwegian National Opera & Ballet consists of the companies the Norwegian National Ballet and the Norwegian National Opera, in addition to the Norwegian National Opera Orchestra, the Norwegian National Opera Chorus, the Norwegian National Opera Children's Chorus and the Norwegian National Ballet School.

The Norwegian National Opera & Ballet moved into the new Opera House in Bjørvika in 2008.

Since the opening, pictures of the angular architecture seemingly arising from the waters of Oslo Fjord have become known around the world and today are considered the keystone signature of the Oslo Opera House.

This was precisely the intention of the firm of architects behind this iconic design, Snøhetta, which wanted to make the roof a platform accessible to all and in so doing create a new public space in the centre of Oslo. A parallel wish was to create a new landscape that would draw together the natural beauty of Oslo Fjord and the city.

In the foyer the public is met by a light, open space with a large, undulating oakwood wall. Behind this wall are the opera house's three performance halls, with the Main House forming the heart of the building. Acoustic requirements determined the interior design of the Main Stage, and the combination of timbre and tonal possibilities and the dark, golden woodwork can be said to have transformed the Main Stage into a singularly outsized wooden instrument.