Late Night Dinner und Cruise mit Live-Musik - Schedule, Program & Tickets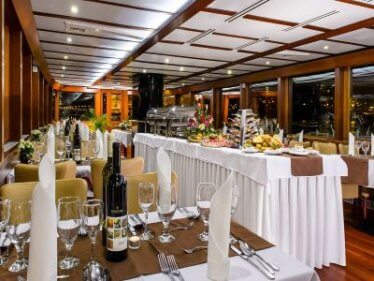 Late Night Dinner und Cruise mit Live-Musik
As the sun slowly sets behind the Buda hills and glimmering city lights take the place of the natural illuminations, the Pearl of the Danube truly start to serve its name. To truly get to know Budapest, one would need an in-depth exploration after dusk and where could it be more pleasant, than the mighty Danube River.

What to expect
The late night river cruise presents an unparalleled insight into the city's nightlife from aboard a classy restaurant boat. Sailing beneath 6 bridges and countless marvellous sights bathing in gold light, your scenic ride will prove to be one out of fairy tales and folk fables. Please all your senses and sample the most popular dishes of Hungary while being serenaded by talented string musicians from the Rajkó folk ensemble.

The 90 minute cruise will reintroduce you to the city's most amazing sights by the riverbank such as the House of Parliament, the Buda Castle, the Matthias Church and the St. Stephen's Basilica from a new perspective. Witness the most beautiful bridges of Budapest like the iconic Chain Bridge, the Liberty Bridge and the Elizabeth Bridge, dressed in their night gown of gleaming lights.

Taste some of the best flavours the local kitchen has to offer in the form of the open buffet dinner then enjoy a couple of free beverages at the open upper deck of the boat for a panoramic view to sweep you off your feet.

A ride throughout the centre of Budapest and its sparking atmosphere will reveal why the city is a proud bearer of the name: the Pearl of the Danube.

Inclusions:
Open buffet dinner

Menu
Cold entries
Spiced cottage cheese cream and traditional greaves cream

Soups
Alföld style goulash with small dumplings
Vegetable cream soup
Warm main courses
Mini stuffed cabbage
Traditional chicken leg "Paprikasch"
Roasted chicken breast with basil-cheese sauce
Spicy pork rib with thyme – mustard sauce
Roasted sea fish with Chardonnay sauce

Garnishes and vegetarian
Grilled polenta with feta cheese
Grilled vegetables
Homemade dumplings with spinach and mustard-mushroom sauce
Hash-brown potatoes
Steak potatoes
Dumplings

Salads
Fresh seasonal salads with dressings
Italian pasta salad
Caesar's salad
Sweet corn salad with mayonnaise
Season fruit basket

Desserts
Home-made strudel
Somló style sponge cake
Mini tarts
Dessert variations Európa style
Welcome drink and two further drinks
Transfer service if option selected
Transfer Service Information

Departure time:
The cruise starts at 22:00 (in case of the evening cruise, it starts at 19:00)

Meeting time: 21:30 ( in case of the 19:00 cruise: 18:30)
Duration:
90 minutes (in case of the 19:00 cruise: 120 min)

Meeting point:
Danube Palace

Subject to change.