Un ballo in maschera - Schedule, Program & Tickets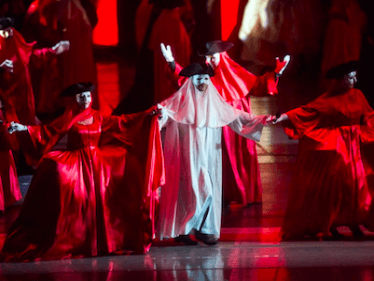 Un ballo in maschera
King Gustaf III. holds its morning audience as if it were a theatrical performance. Page Oskar hands over the guest list of an upcoming masked ball to the king. Gustaf discovers the name Amelia, the wife of his best friend René Anckarström, whom he secretly loves. A conspiracy against the king is beginning. René warns him, but the king underestimates the danger. Even the oracle of the fortune teller Ulrika, who prophesied that he will be killed by the one who will shake hands with him first, he does not take seriously, because it is his friend René Anckarström, who welcomes him with a handshake. When Gustaf and Amelia confess their love at midnight on the place of execution, René shows up unexpectedly to warn the friend again. He exchanges the coat with the king so that he can flee unrecognized and promises to escort the veiled stranger back to the city. The conspirators come and attack the supposed king. René reveals himself. His wife Amelia throws herself between the fighters, dropping her veil. Mocked as a cuckolded husband, René wants to join the conspirators. When King's Page Oscar brings an invitation to the Masquerade Ball, he decides to make the ball a death dance for Gustaf without knowing that the King has already decided against love and duty. When he says goodbye to Amelia, he is shot by René.

UN BALLO IN MASCHERA is considered a prime example of Verdi's new aesthetics of verità, which develops a broad spectrum of musical-dramatic facets. The tragic love affair between King Gustaf III. and Amelia, which is like a fatality, is contrasted as a counterpoint with the radiant court atmosphere, especially represented by the page Oskar. The dramatic climax is the finale of the third act: at the masked ball of the court society, the conspirators join in with Count René Anckarström, the two storylines interpenetrate. The catastrophe develops against the background of elegant dance music. The last encounter between Amelia and Gustaf is accompanied by a stylized minuet, interrupted only once by an angst-laden music, when Amelia fears for the beloved's life. The emotions of the two protagonists, which alternate between desire and the agony of conscience, reflect the variety of the musical arrangement: musical contrasts, sharp punctuation and syncopation express the intensity of the emotions. The drama takes place especially in music.

Götz Friedrich and his two outfitters also make it possible to see and experience them on stage through their stage design and sophisticated personal direction.

Subject to change.