Manon Lescaut - Schedule, Program & Tickets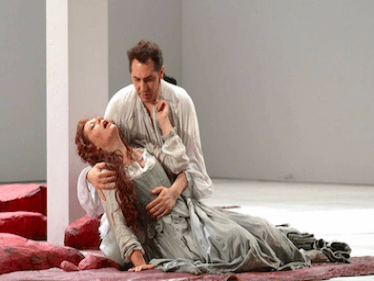 Manon Lescaut
"What have I to do with heroes and immortal characters? In such environment I do not like it. I'm not the musician of big things, I feel the little things, and only they love me to handle. ... that's how I liked Manon because she was a girl of heart and not anymore. "(Giacomo Puccini)

With MANON LESCAUT, Giacomo Puccini celebrated his first great success as an opera composer. As with his later world successes here is a female figure in the center. Manon, Mimì, Tosca, even Minnie, the "girl from the Golden West", who knows how to deal so confidently with revolver and prayer book, and finally Liù (TURANDOT) fit into this series of extraordinary women, their tenderness and vulnerability only by their determination and their unconditional dedication to love. They are all interesting, because they are never only perpetrators or victims, not even Cio-Cio-San, who in the end even determines their fate. They follow their hearts, but without great gestures and empty pathos. Perhaps it is this straightforwardness that made her so attractive to Puccini, a straightforwardness that matched his ideal of simplicity. They are not heroines in the classical sense, the Puccini women, and they are not angels either.

The young handsome Manon, who leaves her lover Des Grieux without hesitation to live with the well-to-do, though unloved Geronte, has such a penchant for luxurious distraction that she gives her pleasure in pleasure her personal happiness, in the end even her Life sacrifices. For though she decides to return to Des Grieux, she does not want to miss the comforting certainty of material well-being. Had she refrained from packing her jewelry when the police arrived at her door at the instigation of Gerontes, she might have escaped arrest and subsequent deportation.

Abbé Antoine François Prévost, whose novel "History of the Chévalier Des Grieux and the Manon Lescaut" Puccini served as a model, had clearly outlined the "strange" character of Manon: "Never was a young girl less dependent on money than she, but she had no quiet Moment at the thought that she must suffer hardships. What she needed were snacks and distractions; If she could have enjoyed herself without spending money, she would never have touched even one sou. "With surprising unscrupulousness, the young woman understands how to achieve her goals, but that does not diminish her charm either for her lovers or for the composer.

Passionate feeling, strong contrasts, an entirely unsentimental view of people of flesh and blood, their weaknesses, but also their suffering of caprice and social oppression - in his opera Puccini manages to create a fascinating spectrum of colors and moods. His initial conditions were anything but ideal, as he had chosen a substance that had already been processed several times before. He had to first of all Jules Massenet's MANON, premiered in 1884 with great success, and was working with his numerous librettists - in the textbook are called up to seven authors - strives to be as possible no parallels to Massenet recognizable. In fact, the two works are fundamentally different. Puccini himself once said: "Massenet 's music will be felt French - powder puff and minuet - my Italian passion and despair." Passion and desperation, but also a good deal of realism, have turned the story into a rousing and ultimately shattering story idiosyncratic woman of strong attraction, not a heroine, but a "girl of heart".

Subject to change.