Death in Venice - Schedule, Program & Tickets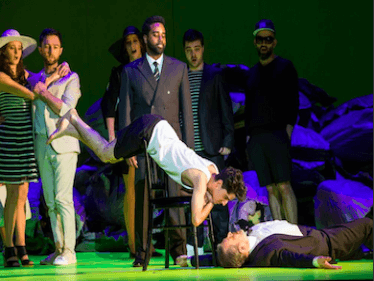 Death in Venice
The last opera by Benjamin Britten is his most personal. Not only the autobiographical lines, which point in Thomas Mann's figure of the aging writer Gustav von Aschenbach, make the work so extraordinary, but also the circumstances of the creation are inseparably interwoven with the subject matter. Composing, Britten sought to escape death, which he saw inevitably approaching: with the pretext of completing the work, he pushed on an urgently needed heart operation.

Britten expanded the form of musical theater into a panopticon of self-reflection that fills with traditions and past experiences. The use of male soprano voices - here for Apollo - finally goes back to the Baroque opera, but has been used by Britten many times in earlier works, mostly written in the voice of the great British countertenors Alfred Deller and James Bowman. The role of Gustav von Aschenbach is the largest that Britten wrote for his partner Peter Pears. He remains the center of the work the whole time. The occupation of the various opponents of Aschenbach, which threaten him with death and destruction, by a bass-baritone, finds its model in the performance tradition of Jacques Offenbach's HOFFMANN'S NARRATIVES.

Graham Vick stages for the fourth time at Verdi's OTELLO [1991] and Wagner's TRISTAN UND ISOLDE [2011] as well as the coproduction TOMORROW AND EVENING [2016] at the Deutsche Oper Berlin. Donald Runnicles continues his Britten cycle with DEATH IN VENICE and returns the work to this house after more than 40 years. Benjamin Britten was from 1958 Extraordinary Member and from 1972 until his death in 1976 Corresponding Member of the Berlin Academy of Arts. At the Deutsche Oper Berlin, TOD IN VENEDIG 1974 came to the German premiere.
Subject to change.