Nabucco - Schedule, Program & Tickets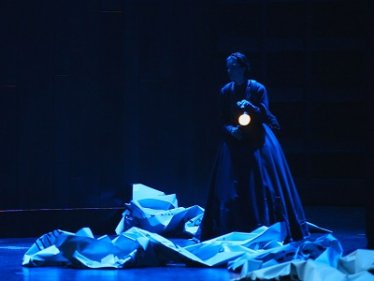 Nabucco
Date:
Time:
Price class:
Location:
07.07.2023 , Friday
19:30
B
Deutsche Oper, Bismarckstraße 35, 10627 Berlin, Germany
Dramma lirico in four parts
Libretto by Temistocle Solera
First performance on March 9, 1842 in Milan
Premiered at the Deutsche Oper Berlin on September 8, 2013

recommended from 14 years

2 hours 45 minutes / One break

In Italian with German and English surtitles

Introduction: 45 minutes before the start of the performance in the foyer on the right


"Va, pensiero, sull'ali dorate" – "Fly, thought, on golden wings" – when, on March 9, 1842, the choir of La Scala in Milan intoned for the first time the lines of the Hebrew choir in the third act of Giuseppe Verdi's new opera NABUCCO , he wrote a piece of music history. The "prisoners' choir" is still considered by many Italians to be the national anthem of their country and the young composer became a beacon of hope on the opera scene.

The drama about the Babylonian captivity of the people of Israel under King Nebuchadnezzar is one of Verdi's most popular operas and was last controversially staged at the Deutsche Oper Berlin 13 years ago by Hans Neuenfels. In the Verdi Year 2013, Keith Warner, one of the most well-known directors on the international opera scene, presented his approach to the material: the Briton staged, among other things, LOHENGRIN at the Bayreuth Festival and the RING DES NIBELUNGEN at Covent Garden and most recently directed the Copenhagen Opera House. Based on the time when the play was created, which was characterized by the transition from feudal structures to bourgeois-industrial society, Warner places the contrast between two peoples in the foreground of his production: the Hebrews, whose culture is characterized by writing and a democratic educational ideal, and the militaristic Babylonians whose understanding of the state is based on an autocratic system of rule.


Musikalische Leitung
Carlo Montanaro
Inszenierung
Keith Warner
Bühne
Tilo Steffens
Kostüme
Julia Müer
Chöre
Jeremy Bines
Chor der Deutschen Oper Berlin
Nabucco
Amartuvshin Enkhbat
Ismaele
Patrick Cook
Zaccaria
Marko Mimica
Abigaille
María José Siri
Fenena
Arianna Manganello
Oberpriester des Baal
Tyler Zimmerman
Abdallo
Andrew Dickinson
Anna
Antonia Ahyoung Kim
Orchester
Orchester der Deutschen Oper Berlin


Subject to change.