Lohengrin - Schedule, Program & Tickets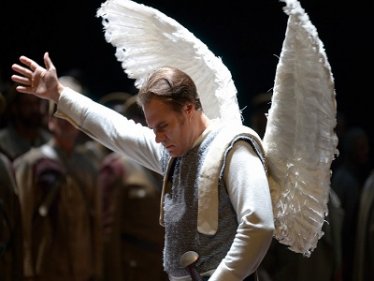 Lohengrin
Romantic opera in three acts
First performance on August 28, 1850 in Weimar
Premiered at the Deutsche Oper Berlin on April 15, 2012

recommended from 15 years

4 hours 30 minutes / Two breaks

In German with German and English surtitles

Introduction: 45 minutes before the start of the performance in the foyer on the right


Election campaign in Brabant - Kasper Holten stages Wagner's LOHENGRIN as a timeless political power game: Putin arm-wrestling and digging up an antique amphora, Putin piloting a fire-fighting plane, not to forget the picture with the Siberian tiger! Putin diving, rock climbing, driving race cars and trying to squeeze a frying pan. Whether he succeeded in the latter is not documented, but that's not the point. What counts is the pose, the staging of the hero. The associated message is of course: If you want the radiant winner at the head of the state, don't ask where he came from or how he gained power, because he wants to lead you to salvation. Some politicians who beamed brightest, most confidently into the cameras in this country are no longer in office because we asked about their past and unearthed uncomfortable truths. "If you recognize him, he must pull away from you".


Musikalische Leitung
Sir Donald Runnicles
Inszenierung
Kasper Holten
Bühne, Kostüme
Steffen Aarfing
Licht
Jesper Kongshaug
Chöre
Jeremy Bines
Chor der Deutschen Oper Berlin
Heinrich der Vogler
Günther Groissböck
Lohengrin
Klaus Florian Vogt
Elsa von Brabant
Camilla Nylund
Friedrich von Telramund
Martin Gantner
Ortrud
Anna Smirnova
Der Heerrufer des Königs
Thomas Lehman
1. Brabantischer Edler
Patrick Cook
2. Brabantischer Edler
Andrew Dickinson
3. Brabantischer Edler
Samueol Park
4. Brabantischer Edler
Dean Murphy
1. Edelknabe
Rosemarie Arzt
2. Edelknabe
Angelika Nolte
3. Edelknabe
Kristina Häger
4. Edelknabe
Saskia Klumpp
Orchester
Orchester der Deutschen Oper Berlin




Subject to change.