Il barbiere di Siviglia - Schedule, Program & Tickets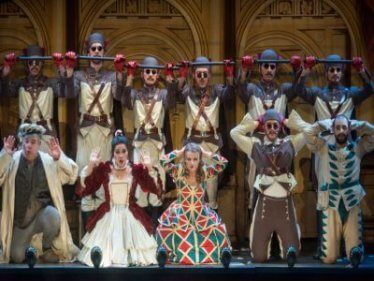 Il barbiere di Siviglia
[The Barber of Seville]
Melodramma buffo in two acts
Libretto by Cesare Sterbini based on the play by Pierre Augustin Caron de Beaumarchais
First performance on February 20, 1816 in Rome
Premiere at the Deutsche Oper Berlin on November 29, 2009

recommended for ages 12 and up

In Italian with German and English surtitles

3 hours / one break

Introduction: 45 minutes before the start of the performance in the foyer on the right


The story is turbulent: an old curmudgeon wants to marry his ward in order to get its considerable inheritance and takes every possible precaution to block the way for the pretty Rosina to the outside world - and thus to possible young lovers. But Count Almaviva discovered his love for her long ago. With the help of the bustling barber Figaro, he wants to outsmart the old man, win over Rosina and, moreover, make sure that it is not his title or wealth, but only love that leads the young woman into his arms. Not an easy task for Figaro, because the opponents spare no effort ... In the end, love wins, and it turns out that all caution was useless!

It is very clear that this story has a lot of comic potential. "But the strangest thing is the music" - says director Katharina Thalbach. "I was thunderstruck by Rossini's artistry and speed. ... During rehearsals I notice again and again how the music hits me in my legs and I involuntarily dance along. It shimmers, tingles and is just fun. And this attitude towards life should be conveyed as much as possible in our production. "In the colorful ambience of a southern seaside resort, Thalbach unfolds a turbulent panopticon around the bustling Figaro, whose inventiveness overcomes all obstacles in the end.

Pierre Augustin Caron de Beaumarchais (1732 - 1799) invented the figure of the scheming and shrewd barber and dedicated an entire trilogy of comedies to him, the first two parts of which were mainly LE BARBIER DE SEVILLE OU LA PRECAUTION INUTILE (1775) and LA FOLLE JOURNEE OU LE MARIAGE DE FIGARO (1778) became world famous. The third part, L'AUTRE TARTUFFE OU LA MERE COUPABLE, which appeared in 1792, took a back seat to the success of its predecessors, perhaps due to the turmoil of the French Revolution. Although the revolutionary potential of the second part of the comedy in particular is most clearly noticeable in Mozart's brilliant setting - THE WEDDING OF FIGARO - the barber of the first part also has a disrespectful temperament that predestines him to be the main character of a comic opera. Giovanni Paisiello had a resounding success with his setting of BARBIER in 1782, so that Rossini took on an apparently overwhelming role model when he decided to make the same subject the subject of a comic opera again. And yet 34 years after Paisiello's triumph, he succeeded in perhaps the funniest and most fast-paced opera buffa in opera history.

"It was entirely the Rossinian way, which is most lovingly revealed in BARBER OF SEVILLE. The despisers of Italian music, who also break the baton of this genre, will one day not escape their well-deserved punishment in hell, and are perhaps condemned to hear nothing but fugues by Sebastian Bach for a long time. "(Heinrich Heine)


Occupation:

Musical director Yi-Chen Lin
Production by Katharina Thalbach
Stage Momme Röhrbein
Costumes Guido Maria Kretschmer
Choirs Thomas Richter
Count Almaviva Matthew Newlin
Bartolo Misha Kiria
Rosina Vasilisa Berzhanskaya
Figaro Dean Murphy
Basilio Patrick Guetti
Fiorillo Samueol Park
Berta Flurina Stucki
An officer Tyler Zimmerman
A notary Clara-Lisette Kesselmann

Choir of the Deutsche Oper Berlin
Orchestra of the Deutsche Oper Berlin



Subject to changes.