I Musici Veneziani: Vivaldis Four Seasons - Schedule, Program & Tickets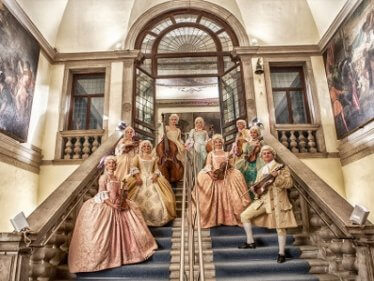 I Musici Veneziani: Vivaldis Four Seasons
I Musici Veneziani in the famous and touching "Four Seasons" by Antonio Vivaldi: four concerts for violin and strings that represent scenes of nature in music, inspired by each season of year. The program is enriched by three other major concerts for strings


A. VIVALDI
Concerto per Archi e Cembalo in La maggiore F XI n°4
Allegro molto, Andante molto, Allegro

J. PACHELBEL
Canone

A. VIVALDI
Sinfonia in Sol maggiore RV 149
Allegro molto, Andante, Allegro



A. VIVALDI LE QUATTRO STAGIONI

La Primavera
Op.8 n1 in Mi maggiore
Allegro, Largo, Allegro

L' Estate
Op.8 n.2 in Sol minore
Allegro non molto, Adagio, Presto, Presto

L' Autunno
Op.8 n.3 in Fa maggiore
Allegro, Adagio, Allegro

L' Inverno
Op.8 n.4 in Fa minore
Allegro, Largo, Allegro

Category A = Front Seats
Category B = Back Seats
Reduced: Under 18, Students (max. 27 years old), Groups (min. 15 pax), Military, Venice Card
Please show your document at the entrance.