Hungaria Folk Ensemble & Orchestra - Schedule, Program & Tickets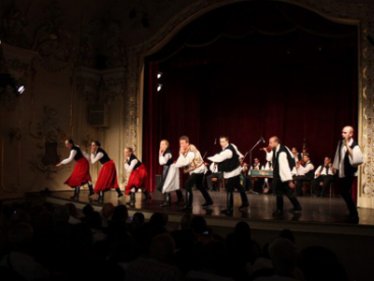 Hungaria Folk Ensemble & Orchestra
The world famous Hungária Folk Orchestra and Ensemble's work is based on decades old musical and dance traditions. The ensemble was founded by gypsy musicians. Their gift is born from the traditions of century old gipsy dynasties.

The exceptional professional skills of the Hungaria are due to a special educational method that concentrates on preserving their natural aptitude for improvisation an essential precondition of virtuosity.

The Hungaria Orchestra performs in many different formations. The fifty strong main orchestra and the six to eight splinter chamber groups are equally celebrated guest on the world's most prestigious stages. They are also adept at accompanying well known soloists and dance ensembles. The incredible range of their repertoire covers many genres from classical to folk music, and from operettas to gipsy music, of course.
An equally high reputation has also been gained by the Hungaria Folk Ensemble. This group of about 60 fiery performers owes its current status to decades of hard work by their predecessors. They specialise in Hungarian folk dance but are equally able to perform operettas, ballet, and modern dance. The high professional attainment of the dancers is largely due to eight to ten years of intense training which begins at a very early age. They are true professionals dedicated to achieving the very highest standards.
The fame and recognition of Hungaria Folk Ensemble has become associated with that of the Hungaria Orchestra as they often perform folklore and operetta programmes together, their joint spectacular show always attracts large audiences wherever they go.

Every concert starts at 20.00 and consists of twice 40-45 minutes with an intermission.