Hollands Meister - Schedule, Program & Tickets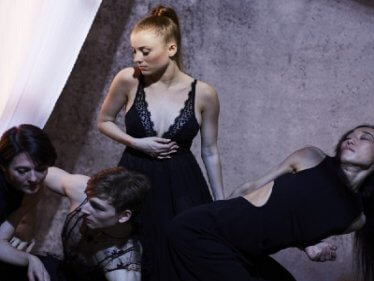 Hollands Meister
Skew-Whiff by Sol León and Paul Lightfoot
Adagio hammer piano by Hans van Manen
Jiří Kylián's Symphony of Psalms

The first premiere of the Vienna State Ballet brings together three works by the former director of the Nederlands Dans Theater under the title "Hollands Meister", the founding of which opened a new chapter in the history of the ballet in 1959: to date, significant impulses for dance have come from Holland.

"Skew-Whiff" means something like "skewed" and sets no limits to the imagination of trying out different types of locomotion in a playful way or making unsuspecting falls uplifting. Great fun from the choreographer duo Sol León & Paul Lightfoot. Hans van Manen's Beethoven ballet "Adagio Hammerklavier", on the other hand, is a sublime masterpiece in its concentration and clarity: "floating as light as a feather, a touch, a dream of ballet", says dance critic Jochen Schmidt. And with his "Symphony of Psalms" for Stravinski's composition of the same name, Jiří Kylián created a key work of the 20th century. In his characteristic fast-moving language of movement, he unfolds a fascinating spiritual architecture before our eyes.

Subject to changes.