Hallstatt Tagestour ab Wien - Schedule, Program & Tickets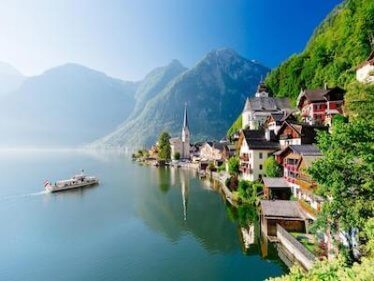 Hallstatt Tagestour ab Wien
Travel with us to the picturesque Salzkammergut and walk through the 7000-year-old Hallstatt

PROCEDURE
Sea Castle Orth
Our excursion to the Salzkammergut leads first from Vienna to Gmunden, home of the beautiful Gmundner ceramics. The first highlight awaits you already there: The idyllic castle Orth, which stands on a tiny island in the Traunsee. Use the short stop and take a picture of the magnificent property and the massive mountains that surround it.

Trip to Hallstatt
Continue by bus to Hallstatt, a historic town that was photographed millions of times and was even copied once. The place nestles picturesquely between lake and mountain and enchants with its narrow streets and unique wooden buildings.

During a city walk, you will learn all about the 7,000-year history of Hallstatt, the mighty salt chambers that brought wealth to the region, and the tragedies that took place there. A highlight is certainly the visit to the ossuary, where painted skulls testify to an almost forgotten tradition.

Shipping and Skywalk
Then enjoy Hallstatt on a short boat trip from the water. Afterwards you have free time for lunch or city stroll. The next meeting point is the Salzbergbahn, where we take the funicular to the Skywalk. The view from the top of Hallstatt and the lake will take your breath away!
Then the bus tour will bring you back to Vienna.

HIGHLIGHTS
Bus tour through the idyllic Salzkammergut
Photo stop at the castle Orth
Guided walk through Hallstatt
Visit of the Ossuary and the skull collection
Take the funicular to Skywalk
20 min. Boat trip on the beautiful Lake Hallstatt

INCLUDED
Free hotel pick-up from selected hotels
Bus trip to the Salzkammergut
Guided city walk in Hallstatt
Entrance to the ossuary in Hallstatt
20 min. Boat trip on Lake Hallstatt
Ride on the funicular

excludes
food and drinks

IMPORTANT INFORMATION
Languages: German, English

DURATION
1 day

Subject to change.