Don Carlo (it.) - Schedule, Program & Tickets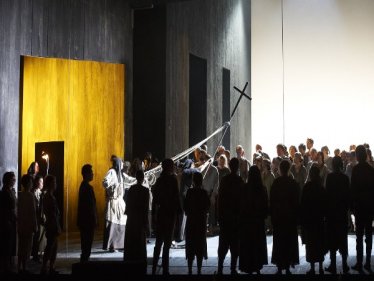 Don Carlo (it.)
Composer: Giuseppe Verdi

Alain Altinoglu | Dirigent
Daniele Abbado | Regie
Graziano Gregori | Bühnenkonzeption
Angelo Linzalata | Bühne
Carla Teti | Kostüme
Alessandro Carletti | Licht
Boris Stetka | Regiemitarbeit
Simona Bucci | Choreographie

Giacomo Prestia | Philipp II.
Roberto Alagna | Don Carlo
George Petean | Rodrigo
Adrianne Pieczonka | Elisabeth von Valois
Elena Maximova | Prinzessin Eboli

Don Carlos is a five-act Grand Opera composed by Giuseppe Verdi to a French language libretto by Camille du Locle and Joseph Méry, based on the dramatic play Don Carlos, Infant von Spanien ("Don Carlos, Infante of Spain") by Friedrich Schiller. The story is based on conflicts in the life of Carlos, Prince of Asturias (1545–1568) after his betrothed Elisabeth of Valois was married instead to his father Philip II of Spain as part of the peace treaty ending the Italian War of 1551-1559 between the Houses of Habsburg and Valois.