The Hunchback of Notre Dame - Musical - Schedule, Program & Tickets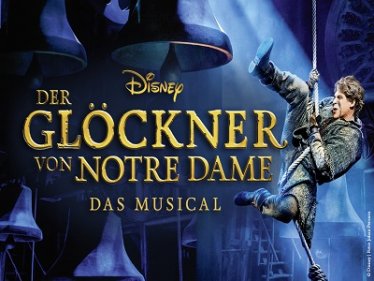 The Hunchback of Notre Dame - Musical
Disney's THE HUNCHBACK OF NOTRE DAME in Vienna for the first time

After MARY POPPINS, the United Theaters in Vienna are bringing another successful Disney production to the Ronacher: Disney's THE HUMPBACK OF NOTRE DAME will celebrate its Austrian premiere in October 2022. Based on the famous novel by Victor Hugo and based on the Disney film of the same name with great, Oscar-nominated film music, the legendary musical composer and 8-time Oscar, 11-time Grammy and Emmy Award - and Tony Award winner Alan Menken created ( including "Sister Act", "Beauty and the Beast", "Pocahontas") together with the songwriter and three-time Oscar, Golden Globe and Grammy Award winner Stephen Schwartz (including "Wicked", "Verweihe" and "Schikaneder" in Vienna) a fascinating musical adaptation of the highly emotional material about the hunchback "Quasimodo" and the famous Cathedral of Notre Dame.
Touching musical evening with unforgettable Disney songs

Disney's THE HUNCHBACK OF NOTRE DAME promises an extraordinary and highly touching musical experience for young and old with all the unforgettable songs from the world-famous film. The impressive musical adaptation impresses not only with the Oscar-nominated, opulent music with large church choirs and live orchestra, but also with the elaborate and powerful staging by Scott Schwartz. Experience the successful piece after many international productions, including in the USA, Berlin and Tokyo, now finally for the first time in Vienna at the Ronacher.
A musical highlight for the whole family

The musical tells the story of Quasimodo, who was disfigured from birth and grows up isolated from the rest of the world in the bell tower of Notre Dame Cathedral in Paris. When he sneaks into the annual Festival of Fools, he gets into trouble. Only the pretty Esmeralda stands up for him. When she is targeted by the evil Archdeacon Frollo, Quasimodo saves her and hides her in the church tower. Look forward to the gripping story of love, longing and passion and a highly emotional musical evening for the whole family.

The orchestra of the United Stages Vienna will play under the direction of Michael Römer.

(in German with English surtitles | Recommended age: from 8 years)


Subject to change.