Der fliegende Holländer - Schedule, Program & Tickets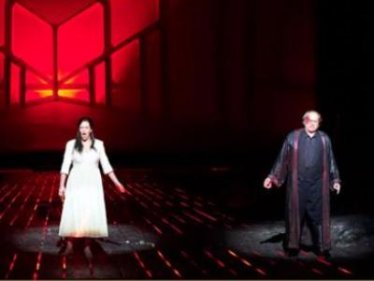 Der fliegende Holländer
Composer: Richard Wagner

Yannick Nézet-Séguin | Dirigent
Christine Mielitz | Regie
Stefan Mayer | Ausstattung
Eva Walch | Dramaturgie

Peter Rose | Daland
Ricarda Merbeth | Senta
Norbert Ernst | Erik
Bryn Terfel | Der Holländer

The Dutchman, a sea captain, when faced with daunting storms, swore he would sail for all eternity if necessary to reach his destination. Be as careful in what you swear as you should be in what you wish for: in a Faustian turn, Satan condemns the Dutchman to sail the seas forever, with his only hope for redemption the unconditional love of a woman. The Dutchman is allowed to go ashore once every seven years to seek the woman whose love will save him from his tortured purgatory.
The opera opens as the Dutchman sails into a bay in Norway for his periodic chance at finding the woman whose love will deliver him from his fate. He encounters a local ship captain, Daland, who has an eligible daughter and he offers Daland treasure in exchange for permission to court her. Senta, the daughter, is already intrigued with the legend of the Dutchman, even before having met him. When she does meet the captain she pledges her faith to him, determined to save him.
But Senta´s romantic longings are countered by her existing bond to Erik, a local huntsman who continues to woo her. Thinking Senta has betrayed him, the Dutchman sails off. Senta throws herself into the sea saying, ´Here I stand, faithful to you until death.´ They are then seen rising to heaven together.