Der Besuch der alten Dame - Schedule, Program & Tickets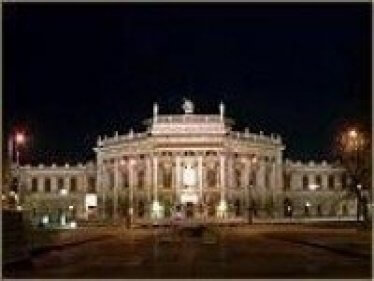 Der Besuch der alten Dame
Co-production with the Ruhrfestspiele Recklinghausen
Can you leave your home behind? Claire Zachanassian can not. In Friedrich Dürrenmatt's tragic comedy, she returns to the place of her childhood and adolescence to seek revenge. Many years have passed since Klara Wäscher lost her innocence in the village of Güllen to Alfred III. Then she let sit with the child, she defamed as a whore. Now she returns, a rich widow, and promises the one billion who kill the unfaithful Alfred. "Pale but worthy," one meets her, speaks of Europe, law and humanity, rejects with indignation the monstrous offer. She answers with the shortest sentence of the piece: "I'm waiting."

"The world is changing through man, but man does not change and falls victim to the changed world through him," Dürrenmatt once stated in almost brilliant clarity. The whole fragility of man in modernity, outlined in one sentence. The illusion of Heimat as a helpless attempt to cling to something in a world that is changing rapidly. Dürrenmatt did not simplify the world. With sublime reduction like a Swiss watchmaker opening a case, he made the mechanics behind the unrest recognizable - and his piece The visit of the old lady to a world success.

Frank Hoffmann will stage this great parable of modernity in co-production with the Ruhrfestspiele Recklinghausen and Maria Happel and Burghart Klaußner in the leading roles.

For artistic reasons, this production smokes on stage.

Subject to change.